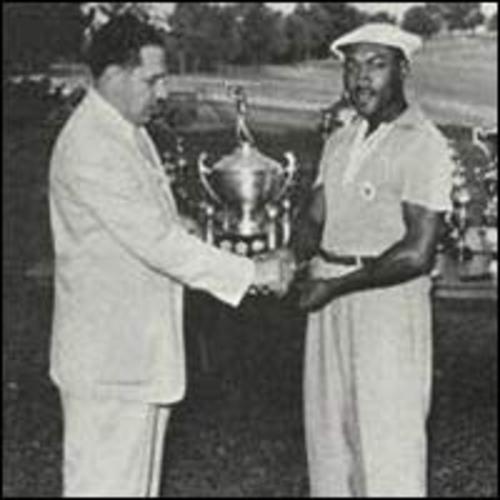 Charlie Sifford (1922- ) is considered by many in the sport to be the "Jackie Robinson" of professional golf. Sifford was born and raised in Charlotte, NC, where he spent his youth at a caddy at the Carolina Country Club.
The young golf prodigy soon found himself polishing his game in his off hours, careful to avoid club security and patrons that wouldn't be enamored to see a young Black golfer playing through. Carolina Club owner Sutton Alexander and future PGA champion Clayton Heafner happened to notice one of Sifford's impromptu practice sessions, and offered to teach him the game.
In 1939, Charlie was dismissed from the club, in part because his talent was starting to be noticed by many of the club's White patrons. At the age of 17, he moved to Philadelphia and joined the all-Black United Golf Association (UGA) tour. The next few years saw Sifford honing his skills, while being mentored by some of Black America's elite athletes and entertainers including Joe Louis and Jackie Robinson. Both men encouraged Sifford to challenge the PGA's white-only membership restriction.
Sifford would be 40 years old before the PGA integrated in 1961, and his first years of competition saw him facing a difficult routine of harassment and bureaucratic obstacles from segregationists intent on forcing him from the PGA ranks. Despite the interference, Sifford proved himself to be a formidable opponent, leading many tournaments and winning the Hartford Open in 1967 as well as the Los Angeles Open in 1969.
Charlie Sifford's status as a legend in Black golf was sealed in 2004, when he was admitted to the World Golf Hall of Fame, the first African-American golfer to be so honored. In an interview with the Arizona Republic, Sifford, with his trademark cigar in hand, reminisced about the threats and insults of racist competitors, and reflected on the lack of young Black athletes in the game. "Only the strong can survive out here. They counted me out 25 years ago, but I'm still here."
Sifford continued to compete at the professional level well into his 70s.
______________________________________
www.blackgolfnet.com – the #1 online community for African American golf enthusiasts
© 2008 BlackGolfNet.com / SACHA Interactive
Posted By:
Wednesday, July 16th 2008 at 3:48PM
You can also
click here to view all posts by this author...