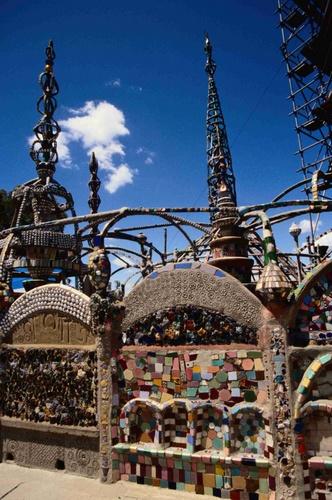 Watts, (Los Angeles) California
Background and Summary
Watts is a residential district in southern Los Angeles county, in California. It is considered part of south Los Angeles. A definitive story of this historic community is The City of Watts, California: 1907 to 1926, by Mary-Ellen Bell Ray, published in 1985 by Rising Publications.
The area now known as the Watts neighborhood in a modern, historical context was settled after the arrival of Spanish-Mexican settlers, as part of the Rancho La Tajuata, after they received a land grant in 1820. As on all "ranchos," or farms, the principal vocation was grazing and beef production. With the influx of White-Americans into southern California in the 1870s, La Tajuata land was sold-off and subdivided for smaller farms and homes. Then, the arrival of the railroad spurred the development of the area, and in 1907, Watts was incorporated as a separate city, named after Charles H. Watts, a landowner and civic leader. The city voted to annex itself to Los Angeles in 1926.
Along with more White-Americans, Mexican and Mexican-American railroad workers called, "traqueros," settled in the community. Blacks came in later. Many of them were Pullman car porters and other railroad workers. Schoolroom photos from 1909 and 1911 show two or three Black children among the 30 or so pictured.
Watts the Riot About?
Watts became a predominantly Black community by 1940. During World War II, several large housing projects, such as public housing areas named Nickerson Gardens, Jordan Downs and Imperial Courts, were built to house workers in war industries. These housing projects were nearly 100 percent Black by the early 1960s, as Whites moved to new suburbs outside the city center.
It wasn't long after the "white flight," of White-Americans out of downtown Los Angeles to the safety of the suburbs, that longstanding resentment from the Los Angeles' working-class Black community erupted. Rage over things such as treatment by the police and what was perceived as inadequate public services, schools and hospitals, exploded on August 11, 1965, into what is commonly known as the Watts Riots.
The event that precipitated the rioting was the arrest of a Black youth, 21-year-old Marquette Frye, by the California Highway Patrol on drunk-driving charges. The arrest actually occurred outside Watts, but Watts was, by far, the area most damaged in the violent protest and turmoil that ensued over the alleged intoxication charge and arrest of the young man.
The rioting started after crowds of people watching the police officer dealing with Frye began to taunt the officer, and police reinforcements were called in. Soon, people in the streets were engaging in a verbal spar with the police, who were outnumbered. Apparently, some police began hitting people with their batons. Once the police got brutal with the onlookers, violence, fighting, vandalism, looting and all mayhem followed. It was a combination of tension between law enforcement and local residents, the poor housing and services they were and were not receiving, along with racism that made the residents of the Watts and L.A. area push back.
Watts suffered further in the 1970s, with gangs gaining in strength. Between 1989 and 2005, police reported more than 500 homicides in Watts alone, most of them being gang-related. Three of Watts' most notorious gangs: the Grape Street-Watts Crips, Bounty Hunter-Watts Bloods, and PJ-Watts Crips, formed a cease-fire agreement after the 1992 Los Angeles riots. This pact may have been tied to a decrease in crime in the area between 1992 and 2000.
Watts Improves?
Beginning in the 1970s, many Blacks left Watts for other parts of south Los Angeles, and later the Inland Empire, the San Gabriel Valley, and the San Joaquin Valley for example. This process, known as "Black flight," is a phenomenon occurring in many inner-city neighborhoods in Los Angeles today. The exiting Black population is being largely replaced by immigrants of Ethiopian, Indian, Mexican and Central American ancestry. This process accelerated after the 1992 riots.
Neighborhood leaders have begun a strategy to overcome Watts' reputation as a violence-prone and impoverished area. Museums and art galleries opened in the area surrounding the Watts Towers on E. 107th Street have been promoted heavily. This architectural landmark has attracted many artists and professionals to the area.
In July of 2005, Watts returned to the news when a police SWAT team accidentally killed 18-month-old Suzy Peña who was held hostage by her father at a used car lot in the area. Reaction in the community was divided between condemnation of Peña's father and calls for disciplinary action against the SWAT team, but the division of public opinion was not necessarily racial.
Demographics
As of the 2000 census, total population in the district was 22,847. Racial breakdown was as follows: 36.9 percent Black, 15.3 percent White, 0.8 percent Native American or Alaska native, 0.2 percent Asian or Pacific Islander, 43.3 percent some other race and 3.9 percent two or more races. Sixty-two percent were Hispanic of any race. The Watts community has the lowest household income in all of Los Angeles county with $17,987 per year and per capita income stood at $6,681 in 2000; Fifty percent of families and 49.1 percent of individuals lived below the poverty line. Unusually, the household income in the 1980 census for Watts was higher than it is today even with inflation.
Posted By:
Thursday, March 6th 2008 at 2:48PM
You can also
click here to view all posts by this author...