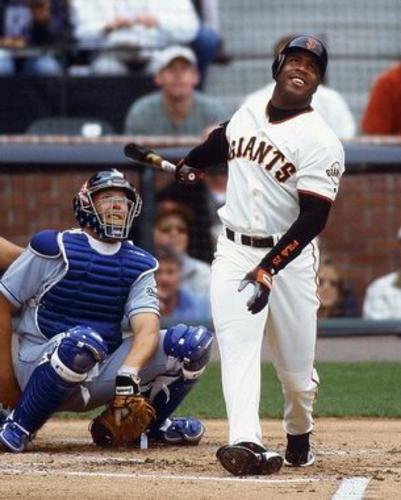 Barry Bonds
Background and Early Years
Barry Lamar Bonds, born July 24, 1964, in Riverside, Calif., is a record-setting Major League Baseball outfielder who is currently a free agent. He is the son of former major league All-Star Bobby Bonds, the godson of Hall of Famer Willie Mays, and a distant cousin of Hall of Famer Reggie Jackson. He debuted in the Major Leagues with the Pittsburgh Pirates in 1986 and joined the San Francisco Giants in 1993, where he stayed through 2007. Bonds filed for free agency following the 2007 World Series.
Bonds currently holds the all-time Major League Baseball home run record with 762, and is also the all-time career leader in both walks with 2,558, and intentional walks with 688. He holds numerous other records, including the single-season major league record for home runs (73), which he set in 2001, and the record of seven Most Valuable Player awards.
Since 2003, Bonds has been a key figure in the Bay Area Laboratory Co-Operative scandal. He was under investigation by a federal grand jury regarding his testimony in the BALCO case, and was indicted on perjury and obstruction of justice charges on November 15, 2007. The indictment alleges that Bonds lied while under oath about his alleged use of steroids.
Bonds grew up in San Carlos, Calif., and attended Junípero Serra High School in San Mateo, Calif., excelling in baseball, basketball and football. As a freshman, he spent the baseball season on the junior varsity team. The next three years, 1980 to 1982, he starred on the varsity team. He batted .467 his senior year, and was honored as a prep All-American. The San Francisco Giants drafted Bonds in the second round of the 1982 MLB draft as a high school senior, but Bonds and the Giants were unable to agree on contract terms, so Bonds instead decided to attend college.
Bonds attended Arizona State University, hitting .347 with 45 home runs and 175 Runs Batted In. In 1984, he batted .360 and stole 30 bases. In 1985, he hit 23 home runs with 66 RBIs and a .368 batting average. He was a Sporting News All-American selection that year. He tied the National College Athletics Association record with seven consecutive hits in the College World Series as a sophomore and was named to All-Time College World Series Team in 1996. He graduated from Arizona State in 1986 with a degree in criminology. During college, he played part of one summer in the amateur Alaska Baseball League with the Alaska Goldpanners.
He and his second wife, Liz Watson, live in San Francisco along with their daughter Aisha Lynn. Bonds has three children: Nikolai and Shikari, from his first marriage to Sun Bonds, and daughter Aisha. His son Nikolai is a batboy for the Giants, and always he sits next to his dad in the dugout during games.
Pittsburgh It Is
Bonds was drafted by the Pittsburgh Pirates in the first round, where her was sixth overall at the 1985 MLB draft. Bonds joined the Prince William Pirates of the Carolina League, and he was named Player of the Month for the league in July of 1985. In 1986, he hit .311 in 44 games for the Hawaii Islanders of the Pacific Coast League, and he made his major league debut on May 30, 1986.
In 1986, Bonds finished sixth in Rookie of the Year voting, hitting 16 home runs and stealing 36 bases. He hit 25 home runs in his second season, along with 32 stolen bases and 59 RBIs. Bonds improved in 1988, hitting .283 with 24 home runs. Bonds started off his 1989 campaign well, but tapered off quickly, finishing with 19 HRs and 58 RBIs.
Bonds won his first MVP award in 1990 after hitting .301 with 33 home runs and 114 RBIs that year. His 52 stolen bases tally was third in the league. He won his first Gold Glove and Silver Slugger Awards. In 1991, Bonds also put up great numbers, hitting 25 homers and driving in 116 runs, and obtained another Gold Glove and Silver Slugger. He finished second to the Atlanta Braves' Terry Pendleton, the National League batting champion, in the MVP voting. The next season, Bonds won his second MVP award. He dominated the NL, hitting .311 with 34 homers and 103 RBIs, and propelled the Pirates to their third straight National League East division title. However, Pittsburgh was defeated by the Braves in a 7-game National League Championship Series. Bonds was involved in the final play of game seven of the NLCS, where he fielded a base hit by Francisco Cabrera and attempted to throw out Sid Bream at home plate. But the throw to Pirates catcher Mike LaValliere was late and Bream scored the winning run. For the third consecutive season, the NL East Champion Pirates were denied a trip to the World Series.
In 1993, Bonds left the Pirates to sign a lucrative free agent contract worth a then-record $43.75 million over six years with the Giants, with whom his father spent the first seven years of his career, and with whom Mays played 22 of his 24 major league seasons. The deal was, at that time, the largest in baseball history in terms of both total value and average annual salary. To honor his father, Bonds switched his jersey number to 25 once he signed with the Giants, as it had been Bobby's number. His number during most of his career with the Pirates, 24, was retired in honor of Mays. Bonds hit .336 in 1993, leading the league with 46 home runs and 123 RBI en route to his third MVP award. As good as the Giants were, winning 103 games, the Braves won 104 in what some call the last great pennant race and didn't make it to the World Series.
In the shortened season of 1994 due to a player strike, Bonds hit .312 with 37 home runs and had a league-leading 74 walks. He finished fourth in MVP voting. In 1995, Bonds hit 33 homers and drove in 104 runs, hitting .294, but finished only 12th in MVP voting that time.
In 1996, Bonds became the first NL player to hit 40 home runs and steal 40 bases in the same season. Bonds drove in 129 runs with a .308 average and walked a then-NL record 151 times. During the 1996 season, Bonds became the 4th player in history to steal 300 bases and hit 300 home runs for a career, joining Mays, Andre Dawson and his father Bobby. In 1997, Bonds hit .291, his lowest average since 1989. But he hit 40 home runs for the second straight year and drove in 101 runs, leading the league in walks again with 145. He tied with his father, in 1997, for having the most 30/30 seasons.
In 1998, Bonds got off to a very rocky start, but by season's end he hit .303 with 37 home runs and drove in 122 runs, winning his eighth Gold Glove. He became the first player ever to have career totals of 400 home runs and 400 stolen bases. With two outs in the ninth inning of a game against the Arizona Diamondbacks on May 28, 1998, Bonds became the third player in baseball history to be walked intentionally with the bases loaded. Bonds finished eighth in the MVP voting that season.
Great Players Becomes Greater
Throughout the 1990s, Bonds was an exceptionally patient hitter and a great slugger who stole bases and played Gold Glove defense. Baseball expert Bill James ranked Bonds as the best player of the 1990s, adding that the decade's second-best player, Craig Biggio, had been closer in production to the decade's 10th-best player than to Bonds. In 1999, with statistics through 1997 being considered, Bonds ranked No. 31 on Sporting News' list of the 100 Greatest Baseball Players, making him the highest-ranking active player.
When the Sporting News list was redone in 2005, Bonds was ranked sixth behind Babe Ruth, Mays, Ty Cobb, Walter Johnson, and Henry Aaron. Bonds was omitted from 1999's Major League Baseball All-Century Team, to which Ken Griffey Jr. was elected. James wrote of Bonds, "Certainly the most unappreciated superstar of my lifetime... Griffey has always been more popular, but Bonds has been a far, far greater player." In 1999, James rated Bonds as the 16th best player of all time. "When people begin to take in all of his accomplishments," he predicted, "Bonds may well be rated among the five greatest players in the history of the game."
The following year, Bonds hit .306 with a slugging percentage of .688, which was career best at that time. And he hit 49 HRs in just 143 games, also a career high to that point, while drawing a league-leading 117 walks. In 2001, Bonds' offensive production reached even higher levels, breaking not only his personal records, but several major league records. In the Giants' first 50 games of 2001, Bonds hit 28 home runs, including 17 in May alone, a career high. He also hit 39 HRs by the all-star break that was a major league record, and he drew a major league record of 177 walks. Bonds had a .515 on-base average, a feat not seen since Mickey Mantle and Ted Williams over 40 years earlier. Bonds' slugging percentage was a major league record at .863, and, most impressively, he ended the season with a major league record of 73 HRs.
Bonds re-signed with the Giants for a 5-year, $90 million contract in January of 2002. That year, he hit 46 home runs in 403 at-bats. He won the NL batting title with a career-high of .370 average, and he only struck out 47 times. Despite playing in nine fewer games than the previous season, he had 198 walks, a new major-league record; 68 of them were intentional. He slugged .799, then the fourth-highest total of all time. Bonds broke Williams' major league record for on-base average with a .582. Bonds also hit his 600th home run, less than a year and a half after hitting his 500th.
In 2003, Bonds played in just 130 games. He hit 45 home runs in just 390 at-bats, along with a .341 batting average. He slugged .749, walked 148 times and had an on-base average of well over .500 for the third year in a row. He also became the only member of the career 500 home run/500 stolen base club.
Money and Home Runs
In 2004, Bonds had perhaps his best season. He hit .362 en route to his second NL batting title, and broke his own record by walking 232 times. He slugged .812, which was fourth-highest of all-time, and broke his on-base percentage record with a .609 average. Bonds passed Mays on the career home run list, hitting his 700th near the end of the season. Bonds hit 45 home runs in 373 at-bats, and only struck out 41 times, putting himself in the elite group of the few major leaguers who have ever had more home runs than strikeouts in a season. Bonds won his fourth consecutive, seventh overall, MVP award. He has four more MVPs than any other player in history. In addition, no other player from any league has been awarded the MVP four times in a row. On July 4, 2004, Bonds tied and passed Rickey Henderson's career bases-on-balls record with his 2190th and 2191st career walks.
Bonds' salary for the 2005 season was $22 million, the second-highest salary in the MLB. On March 22, 2005, Bonds announced that he may have to be sidelined for the rest of the 2005 season because of continuing knee problem for which he had already had surgery. Later, he sounded more positive about his rehabilitation and told fans at opening day festivities, "I will be back!" On May 4, 2005, however, Bonds revealed on his website that he had undergone a third arthroscopic knee surgery because of a bacterial infection in his knee. This setback led many to assume that Bonds would not play in the 2005 season, and in the process, raised much speculation as to whether Bonds would ever achieve Hank Aaron's career home run record of 755 HRs.
This was not the case, however. That September, Bonds started working out with the team while the Giants were in Los Angeles to play the Dodgers. Bonds was activated on September 12, 2005, when he returned to start in left field. In his return against the San Diego Padres, he nearly hit a home run in his first at-bat. Bonds finished the night 1-for-4. Upon his return, Bonds mostly continued his pre-injury dominance at the plate, hitting home runs in four consecutive games from September 18 to September 21, and finishing with five HRs in only 14 games.
In 2006, Bonds earned $20 million, the fourth-highest salary in baseball. Through the 2006 season, he had earned approximately $172 million cumulative during his then 21-year career, making him baseball's all-time highest paid player. On February 19, 2006, Bonds announced in an interview with USA Today that he planned on retiring at the conclusion of the 2006 season, with or without the all-time home run record. "I've never cared about records anyway, so what difference does it make?" he asked rhetorically, "I'm telling you, I don't even want to play next year. Baseball is a fun sport. But I'm not having fun...I don't like what it's turned out to be. I'm not mad at anybody. It's just that right now I am not proud to be a baseball player." On March 9, 2006, after his first game of the preseason with the San Francisco Giants, Bonds said that he would decide by August whether or not he would be returning for the 2007 MLB season.
Bonds started the 2006 season with a slump. He hit under .200 for his first 10 games of the season and did not hit a home run until April of that year. This 10-game stretch was his longest home run slump since the 1998 season. From May to August, Bonds continued with a sub-par offensive performance. However, on May 7, 2006, Bonds drew within one home run of tying Babe Ruth for second place on the all time list, after hitting his 713th career home run The towering home run, one of the longest Philadelphia's Citizens Bank Park has seen, traveled an estimated 450 feet.
Shattering More Records
On May 20, 2006, Bonds tied Ruth, hitting his 714th career home run to deep right field to lead off the top of the second inning. Since this was an interleague game at an American League stadium, Bonds was batting as the designated hitter in the lineup for the Giants. He was quoted after the game as being "glad it's over with," and stated that more attention could be focused on fellow MLB player Albert Pujols, who was on a fast track to home run records in early 2006.
Then, on May 28, 2006, Bonds passed Ruth, hitting his 715th career home run to center field off of Colorado Rockies pitcher Byung-Hyun Kim. But Bonds, like Aaron, needed more at-bats than Ruth to surpass the Ruth's record. Mysteriously, radio broadcaster Dave Flemming's radio play-by-play of the home run went silent just as the ball was hit, apparently from a microphone failure. But the televised version, called by Giants broadcaster Duane Kuiper, was not affected. This historic home run was not officially celebrated by MLB, however. The Giants organization unfurled two large banners from light standards alongside the scoreboard in center field to honor the event.
In late August, Bonds began an offensive surge, hitting 10 HRs in 25 starts from August through September, and lifting his batting average 40 points in the same stretch. Bonds continued to be highly productive: a .400 batting average, a .800 slugging percentage, with 10 HRs, six doubles and 26 RBIs, along with 19 walks and only eight strikeouts.
On September 22, 2006, Bonds tied Aaron's NL career home-run record of 733 HRs. The home run came in the top of the sixth inning of a high-scoring game against the Milwaukee Brewers. The achievement was notable for its occurrence in the very city where Aaron began and concluded his career on Milwaukee's team. With the Giants trailing 10–8, Bonds hit a blast to deep center field on a 2–0 pitch with runners on first and second and one out. Though the Giants were, for the time, clinging to only a slim chance of making the playoffs, Bonds' home run provided the additional drama of giving the Giants an 11–10 lead late in a game. Yet, the Brewers eventually won the game, 13–12, despite Bonds' going three for five, with two doubles, the record-tying home run, and six RBIs.
The next day, Bonds surpassed Aaron for the NL career home-run record. Hit in Milwaukee again, this was a solo home run off of Chris Capuano of the Brewers. This was the last home run Bonds hit in 2006. With season long media speculation about the questionable likelihood of Bonds' re-signing for the 2007 season, commentators started concluding it would be difficult to ignore the late-season contribution by Bonds that was keeping the Giants in the pennant race. In 2006, Bonds recorded his lowest slugging percentage since 1991 when he was with the Pirates.
Sitting This One Out
In January of 2007, the New York Daily News reported that Bonds had tested positive for amphetamines (steroids). Under MLB's amphetamine policy, which had only been in effect for one season, players who tested positive were to submit to six additional tests and undergo treatment and counseling. The policy also stated that players were not to be identified for a first positive test, but the New York Daily News leaked the test's results. When the Players Association informed Bonds of the test results, he initially attributed it to a substance he had taken from the locker of Giants teammate Mark Sweeney, but would later retract this claim and publicly apologize to Sweeney.
On January 29, 2007, the Giants finalized a contract with Bonds for the 2007 season. After the commissioner's office rejected Bonds' one-year, $15.8 million deal because it contained a personal-appearance provision; the team sent revised documents to his agent, Jeff Borris, who stated that "At this time, Barry is not signing the new documents." Bonds signed a revised one-year, $15.8 million contract on February 15, 2007, and reported to the Giants' spring training camp on time.
Bonds resumed his goal to get the all-time HR record early in the 2007 season. Bonds returned on April 4, 2007, with another mission. In his first at-bat of the season's second game at the Giants' AT&T Park, Bonds reached out and flipped Padre Chris Young's pitch just over the wall to the left of straightaway center field for career home run 735. This home run put Bonds past the midway point between Ruth and Aaron. But he did not score a HR again until April 13, 2007, when he hit two in a 3-for-3 night that included four RBIs against the Pirates. Home runs numbers 739 and 740 came in back-to-back games against the Diamondbacks.
The hype surrounding Bonds' pursuit of the home run record escalated in May of 2007. On this day, Sports Auction for Heritage, a Dallas-based auction house, offered $1 million to the fan that caught Bonds' record-breaking 756th-career home run. The million dollar offer was rescinded on June 11, 2007, however, out of concern for fan safety.
On that same day, Bonds launched home run 747, ending the relative drought of the previous month. His next home run, 748, came on Father's Day, June 17, 2007, in the final game of a three-game series against the Boston Red Sox at Fenway Park. With this HR, Fenway Park became the 36th major league ballpark in which Bonds had hit a home run. He hit a "Tim Wakefield knuckleball" just over the low fence into the Giant's bullpen in right field. It was his first home run off of his former Pirate teammate. The 750th career home run, hit on June 29, 2007, also came off a former teammate, Livan Hernandez. The blast came in the 8th inning and at that point tied the game at 3 to 3.
On July 19, 2007, after a 21 at-bat hitless streak, Bonds hit two HRs, against the Chicago Cubs. He went 3–3 with two home runs, six RBIs, and a walk on that day. The struggling last place Giants still lost the game 9–8. On July 27, 2007, Bonds hit home run 754 then walked his next four at-bats in the game, but two-run shot helped the Giants win the game 12-10. It marked the first game Bonds had homered in that the Giants won since he had hit No. 747. On August 4, 2007, Bonds hit a 382 foot home run against Clay Hensley of the San Diego Padres for home run number 755, tying Aaron's all-time record. Bonds greeted his son, Nikolai, with a hug after crossing home plate. Bonds met his teammates and then his wife, Liz, and daughter Aisha behind the backstop. He was walked in his next at bat and eventually scored on a fielder's choice.
Home Run Gold
On August 7, 2007, at 8:51 p.m., Bonds hit a 435 foot home run, his 756th, off a pitch from Mike Bacsik of the Washington Nationals, breaking the all-time career home run record, formerly held by Aaron. The pitch, the seventh of the at-bat, was a 3–2 pitch, which Bonds hit into the right-center field bleachers. The fan that ended up with the ball, 22-year-old Matt Murphy from Queens, N.Y., was promptly protected and escorted away from the mayhem by a group of police officers. After Bonds finished his home-run trot, a 10-minute delay followed, including a brief video by Aaron congratulating Bonds on breaking the record that Aaron held for 33 years. Bonds made an impromptu emotional statement on the field, with Mays, his godfather, at his side. He thanked his teammates, family and his late father. Bonds sat out the rest of the game.
MLB commissioner, Bud Selig, did not attend this game, but was represented by the executive vice president of operations, Jimmie Lee Solomon. Selig called Bonds later that night to congratulate him on breaking the record. President George W. Bush also called Bonds the next day to congratulate him. On August 24, 2007, San Francisco honored and celebrated Bonds' career accomplishments and his breaking the home run record with a large rally. Mays spoke, along with Giants owner Peter Magowan. San Francisco Mayor Gavin Newsom presented Bonds the key to the city and Giants vice president Larry Baer gave Bonds the home plate he touched after hitting crucial home run.
The record-setting ball was consigned to an auction house on August 21, 2007, and sold for $752,467. The high bidder, fashion designer Mark Ecko, created a website to let fans decide its fate. Bonds concluded the 2007 season with a .276 batting average, 28 HRs, and 66 RBIs in 126 games and 340 at bats. At the age of 43, Bonds led the league in walks with 132 of them. On September 21, 2007, the Giants confirmed that they would not re-sign Bonds for the 2008 season. Bonds stated that he would like to sign with the New York Yankees as a designated hitter, but that since the team currently has two designated hitters on the roster, it would be unlikely they would sign him.
Most talk was of Bonds signing just for the 2008 season, as he needed just 65 hits to reach the 3,000 mark. There was little discussion of the 800th home run or other milestones as motivation. In addition to the hits, Bonds needed 20 more runs scored to move past Ty Cobb for second place, and 69 to pass Rickey Henderson to be the all-time runs champion; and 38 extra base hits to move past Aaron as the all-time extra base hits champion. Despite the potential to have achieved these statistical milestones, Bonds continued to talk of his quest for a World Series championship as motivation for returning in 2008.
Steroids and Scandals
In 2003, Bonds became embroiled in a scandal when Greg Anderson of the BALCO, Bonds' trainer since 2000, was indicted by a federal grand jury and charged with supplying anabolic steroids to athletes, including a number of baseball players. This led to speculation that Bonds had used performance-enhancing drugs during a time when there was no mandatory testing in MLB. Bonds declared his innocence, attributing his changed physique and increased power to a strict regimen of bodybuilding, diet and legitimate supplements.
During grand jury testimony on December 4, 2003, Bonds said that he used a clear substance and a cream that he received from his personal strength trainer, Anderson, who told him they were the nutritional supplement flaxseed oil and a rubbing balm for arthritis. This testimony was later found to be obtained through an illegal leak by Troy Ellerman, a defense lawyer for Victor Conte, to the San Francisco Chronicle reported by Lance Williams and Mark Fainaru-Wada and published almost a year later on December 3, 2004. Leaking grand jury testimony is a felony and Ellerman pled guilty to doing that on February 14, 2007. Later reports on Bonds's leaked grand-jury testimony contend that he admitted to unknowingly using "the cream" and "the clear" substance.
In August 2005, all four defendants in the BALCO steroid scandal trial, including Anderson, struck deals with federal prosecutors that did not require them to reveal names of athletes who may have used illegal performance-enhancing drugs.
Bonds withdrew from the MLB Players Association's licensing agreement because he felt independent marketing deals would be more lucrative for him. If Bonds had not withdrawn, his name and likeness would be deemed usable in any merchandise licensed by the MLBPA. As a result of his withdrawal, in order to use his name or likeness, a company would have to deal directly with him. For this reason, he does not appear in some baseball video games, forcing game-makers to create generic athletes to replace him.
On February 14, 2008, a typo in court papers filed by Federal prosecutors erroneously alleged that Bonds tested positive for steroids in November of 2001, a month after hitting his record 73rd home run. The reference was meant, instead, to refer to a November of 2000 test that had already been disclosed and previously reported. The typo sparked brief media frenzy.
Bonds' Books
In March of 2006, the book Game of Shadows, written by Lance Williams and Mark Fainaru-Wada, was released amid a storm of media publicity including the cover of Sports Illustrated. Initially, small excerpts of the book were released by the authors in the issue of Sports Illustrated. The book alleges Bonds used Stanozolol and a host of other steroids, and the book is perhaps most responsible for the change in public opinion regarding Bonds' steroid use. The book contained excerpts of grand-jury testimony that is supposed to be sealed and confidential by law. The authors have been steadfast in their refusal to divulge their sources, and at one point faced jail time.
Then, in May of 2006, former Sports Illustrated writer Jeff Pearlman released a scathing biography of Bonds entitled Love Me, Hate Me: Barry Bonds and the Making of an Anti-Hero. Though obscured by Game of Shadows, the book also contained many allegations against Bonds.
Also, in April and May of 2006, ESPN aired a few episodes of a 10-part reality TV series starring Bonds. The show, titled Bonds on Bonds, focused on Bonds' chase of Ruth's and Aaron's home run records. But the series was canceled in June of 2006 ESPN and producer Tollin/Robbins Productions citing "creative control" issues with Bonds and his representatives.
Sources: wikipedia.org; http://www.britannica.com/eb/article-9384072/Barry-Bonds#759273.hook; http://www.barrybonds.com/; http://www.baseball-reference.com/b/bondsba01.shtml; http://barrybonds.mlb.com/team/player_career.jsp?player_id=111188; Curry, Jack. "Bonds completes rocky journey to break record." International Herald Tribune, August 8, 2007; Wildermuth, John. "Going, going - gone! Record-breaking Bonds ball nets $752,467." San Francisco Chronicle. Hearst Communications Inc. September 16, 2007; http://news.bbc.co.uk/2/hi/americas/7097583.stm.
Posted By:
Monday, March 3rd 2008 at 3:46PM
You can also
click here to view all posts by this author...