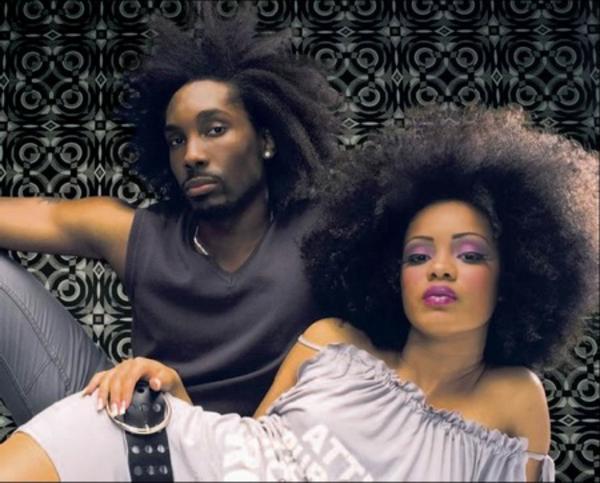 "Afro"
Background and Summary
An "afro," sometimes called a "natural" or shortened to "fro," is a hairstyle in which the hair extends out from the head like a halo, cloud or ball. It ranges from wearing a short afro that is closer to the scalp, all the way to having a long afro that is several times the diameter of the head.
An afro requires very curly hair to get in the correct afro shape to maintain that shape. Anyone of any ethnic background is capable of growing an afro if they have very curly and/or textured hair. For people of African descent, the spiraling, tightly-coiled curls are perfect for forming an afro. Sometimes people will straighten-out the curls, somewhat, giving the hair added volume and length. This is done by first braiding the hair, then separating the coils using an "afro pick." The afro pick, a necessary tool for maintaining an afro, is an adaptation of a traditional African grooming instrument, which is essentially a narrow comb with long, widely spaced teeth. Similarly, added volume can be achieved using an afro pick in combination with the heat from the hair dryer. The effect was called a blowout.
Beginnings of the Fro
Ancient Egyptians were known at times to wear so-called Nubian wigs in something resembling this style. The term "Fuzzy Wuzzy" was applied to the Sudanese by British soldiers because of this hairstyle. In the late 19th century, a style very similar to the modern afro was associated with the Circassian beauties exhibited by P.T. Barnum. These were represented as "the purest example of the White race."
The modern style of an afro dates to the 1960s. In 1963, actress Cicely Tyson sported cornrows and then a "TWA," a "teeny, weeny afro," in the popular network television series East Side, West Side. Famous guitarist Jimi Hendrix became one of the first popular entertainers to have a larger afro.
Natural hairstyles, including the afro, also had political connotations, for example activist Malcolm X called straightened hair "a step towards self-degradation." The afro style was a repudiation of and a statement against the use of hair relaxers and hot combs that Blacks continued to use to achieve styles that resembled Caucasian hair and were unnatural to their ethnicity.
The afro gained popularity during the late 1960s and 1970s, in connection with the growth of the Black Pride and Black Power political movements, and the emergence of "blaxploitation" films and disco music. People sported afros as a show of their pride in their culture and features. Among Blacks, afros were considered a proclamation of "Black is Beautiful!" which became a popular slogan of the time. Afros became symbols of ethnic pride, progressivism and liberalism and sometimes militancy. As early as 1965 and 1966, in many northern and western states, afros were commonly worn by people living in poor neighborhoods. But in the South, it was not a popular hairstyle until around 1969. However, during the later half of the 1970s, the style passed into the cultural mainstream, and for many people, it simply became a fashion fad that sometimes even White men and women with looser, less curly hair adopted.
The "Jewfro"
The term "Jewfro," also sometimes called "isro," has its roots in the 1960s and 1970s, when many prominent Jewish figures were described as sporting the hairstyle. The Los Angeles Times called college football star, Scott Marcus, a flower child with "golden brown hair... in ringlets around his head in what he calls a Jewish afro style." The New York Times in a 1971 article on Harvard's basketball team, wrote that team captain Brian Newmark, "hasn't had a haircut since last May and his friends have suggested his hairdo is a first cousin to the Afro...in the case of the Jewish Junior from Brooklyn, though, the bushy dark hair that is piled high on his head has been called an Isro." And novelist Judith Rossner was described in a Chicago Tribune profile as the "grown-up Wunderkind with an open, oval face framed by a Jewish Afro."
Heeb Magazine, an irreverent Jewish review, published a photo-spread on the "Jewfro" in its first issue, and it cited Albert Einstein and Bob Dylan as precursors of the style. Other examples of people who have had so-called Jewfros are: Neil Diamond, Art Garfunkel, Howard Stern, Matt Stone and Gene Wilder. Interestingly, The Encyclopedia of Pop Culture has claimed that the Afro lost favor with Blacks when Jewish people adopted the style.
Today afros are used in popular culture for comedic effect, especially in comedies from the '90s. Many times, people will get an afro wig and don it for a costume party or Halloween. There is a common joke that involves the hiding of objects in the person's afro hair. In the movie Leprechaun in the Hood, for instance, a character played by rapper Ice-T pulls a baseball bat out from his afro. This scene is a satire of a similar scene in the "blaxploitation" classic Foxy Brown, in which actress Pam Grier hides a revolver in her afro. Another Grier film, Coffy, from 1973, depicts a scene where she plants razor blades in her afro before a fight.
Another way the afro has become a joke can be seen in a '70s flashback sequence of the comedy Naked Gun 33¨÷: The Final Insult, where Nordberg, played by O.J. Simpson, dons an afro so large that he's unable to walk through a door. The Scarface remake of 1983 featured Mary Elizabeth Mastrantonio with an afro. Afros even show up in anime cartoons, with characters such as Nabeshin and Bobobo-bo Bo-bobo, both of whom seemingly derive mystical powers from their afros.
The first series of the British TV program, Trigger Happy TV, often featured a sketch in which actor Dom Joly wore a ridiculously large afro wig and then stood in such a way that the wig would obscure a random person's view of something, typically London landmarks. And in 1966, after Jimi Hendrix arrived of in London to play, Cream's guitarist Eric Clapton had his hair permed to resemble Hendrix's afro.
Famous People Who Wore an Afro:
Lionel Richie
Jimi Hendrix
Pam Grier
Samuel L. Jackson (Pulp Fiction)
Diana Ross
The Supremes
Oscar Gamble
Kareem Abdul-Jabbar
Kelis
Beyonce (Austin Powers: Goldmember)
Angela Davis
Sly
Angela Bassett
Erykah Badu
Denzel Washington (He Got Game)
Eddie Murphy (Norbit)
Ben Wallace
Jackson 5
Sean and Marlon Wayans
Nikki Giovanni
Jesus
Afro Ninja
Billy Preston
Stevie Wonder
Sarah Vaugh
George and Weezie Jefferson (The Jeffersons)
Gregory Hines
Kofi Annan
Richard Pryor
Malcolm X
OJ Simpson
Jesse Jackson
Oprah Winfrey
George Berry
Nelson Mandela
Corbin Bleu
Artis Gilmore
Muhammad Ali
Barack Obama
Frederick Douglass
Shaft
Alvin Ailey
Reggie Jackson
Julius Erving
Arthur Ashe
Ronald Dellums
Calvin Peete
Alex Haley
Bill Cosby
P.J. Patterson
Ed Bradley
Sources: wikipedia.org; The Fugees, Hammersmith Apollo, December 15, 2005; The Encyclopedia of Pop Culture cited in Diane Carol Bailey, Angelo P. Thrower, Basic Care for Naturally Textured Hair: Cultivating Curly, Coily, and Kinky Hair, Delmar Thomson Learning: 2001, pg. 4; Stephen E. Rubin, "Tempo; Judith Rossner's novel success is hard to put down," Chicago Tribune, September 17, 1977.
Posted By:
Friday, February 22nd 2008 at 3:40PM
You can also
click here to view all posts by this author...