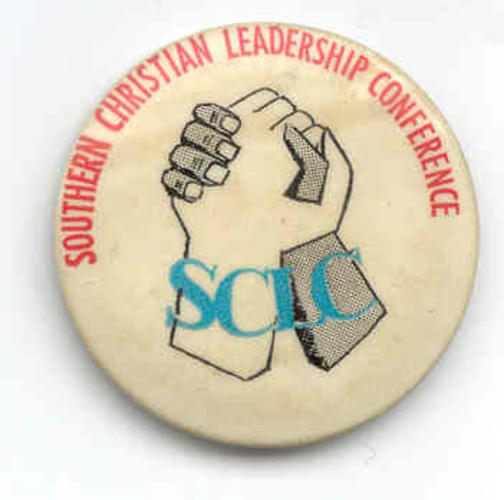 Southern Christian Leadership Conference
Background and Summary
The Southern Christian Leadership Conference is an American civil rights organization. It played a prominent role in the Civil Rights Movement of the 1950s and 1960s, and is closely associated with its first president, Martin Luther King Jr. The origins of the SCLC are traced to the Montgomery Bus Boycott that began after Rosa Parks was arrested for refusing to give her seat on a bus to a White man. The bus boycott, which lasted from December 5, 1955, to December 20, 1956, brought together two Montgomery ministers: Ralph David Abernathy and King.
As boycotting with the intent to desegregate buses began to spread in the South, a group of about 60 activists met in Atlanta, in January of 1957 to discuss the use of non-violent resistance to the segregation and overt racism of the time. In addition to King and Abernathy, the conference attracted such civil rights activists as Ella Baker, T. J. Jemison, Stanley Levison, Joseph Lowery, Bayard Rustin, Fred Shuttlesworth and C. K. Steele among others.
Scare Tactics
At the original meeting, the group established the Southern Leadership Conference on Transportation and Nonviolent Integration, which was soon renamed the SCLC. As its name suggested, the organization intended to draw its strength from leaders of Black churches in the South. Since its establishment, SCLC has remained committed to the use of non-violent civil disobedience as a means of securing equal rights for Blacks. In recent years, the organization's focus expanded to include human rights movements around the world.
During its first few years, SCLC activities were focused primarily on education and voter registration. The SCLC was often criticized for not being as forceful in recruitment and pushing for more visible activism by younger activists in groups such as Student Nonviolent Coordinating Committee and the Congress of Racial Equality, who were participating in such newer methods of social pressure like sit-ins and Freedom Rides. Some of the younger protestors saw the methods of SCLC as slower in bringing about change, which is a common disconnect between generations of activists in any social movement; the younger members typically want to see immediate and massive change.
Movements for Movement
In 1961 and 1962, SCLC joined SNCC in the Albany Movement, a broad protest against segregation in the town of Albany, Ga. It is generally considered the organization's first major non-violent campaign. However, despite demonstrations and arrests, few changes were effected, and the protests drew little national attention.
By contrast, the 1963 SCLC campaign in Birmingham, Ala., was an unqualified success. The campaign focused on a single goal, the desegregation of Birmingham's downtown merchants, rather than the broad desegregation campaign that took place in Albany, Ga. The brutal response of local police, led by Public Safety Commissioner Eugene "Bull" Connor, stood in stark opposition to the non-violent tactics of the activists.
After his arrest in April in Birmingham, King wrote his famous "Letter from Birmingham Jail" in response to a group of clergy who criticized the Birmingham campaign, writing that it was "directed and led in part by outsiders," and that the demonstrations were "unwise and untimely." In his letter, King explained that, as president of SCLC, he had been asked to come to Birmingham by the local members. "I think I should indicate why I am here In Birmingham, since you have been influenced by the view which argues against 'outsiders coming in'," he said. "I have the honor of serving as president of the Southern Christian Leadership Conference, an organization operating in every southern state, with headquarters in Atlanta, Georgia. We have some eighty-five affiliated organizations across the South, and one of them is the Alabama Christian Movement for Human Rights. ... Several months ago the affiliate here in Birmingham asked us to be on call to engage in a nonviolent direct-action program if such were deemed necessary. We readily consented, and when the hour came we lived up to our promise. So I, along with several members of my staff, am here because I was invited here I am here because I have organizational ties here."
King also addressed the question of "timeliness" by saying, "One of the basic points in your statement is that the action that I and my associates have taken in Birmingham is untimely. ... Frankly, I have yet to engage in a direct-action campaign that was 'well timed' in the view of those who have not suffered unduly from the disease of segregation. For years now I have heard the word 'Wait!' It rings in the ear of every Negro with piercing familiarity. This 'Wait' has almost always meant 'Never.' We must come to see, with one of our distinguished jurists, that 'justice too long delayed is justice denied.' We have waited for more than 340 years for our constitutional and God-given rights."
The most dramatic moments of the Birmingham campaign came on May 2, when more than 1,000 Black children left school to join the demonstrations and hundreds were arrested. The following day, 2,500 more students arrived, and Bull Connor met them with police dogs and high-pressure fire hoses. That evening, television news programs showed the nation, and the world, scenes of fire hoses knocking down schoolchildren and dogs attacking demonstrators, who had no means of protecting themselves and were not armed with weapons or unruly in any way. Public outrage led the Kennedy administration to intervene more forcefully and a settlement was announced on May 10, under which the downtown businesses would desegregate and eliminate discriminatory hiring practices, and the city would release the jailed protesters.
During the early 1960s, the group was considered more radical than the seasoned National Association for the Advancement of Colored People, and more conservative than the younger SNCC. SCLC had a mentoring relationship with SNCC in its earlier years, before SNCC abandoned its exclusive policy of non-violence.
Members
The best-known member of the SCLC was King, who led the organization until he was assassinated on April 4, 1968.
Other prominent members of the organization included:
Rev. Fred Shuttlesworth
Rev. Jesse Jackson
Rev. Al Sharpton
Sources: Wikipedia.org; http://www.stanford.edu/group/King/popular_requests/frequentdocs/clergy.pdf; Marian Aguiar, "Southern Christian Leadership Conference," Africana: The Encyclopedia of the African and African American Experience, New York: Perseus, 1999; Manning, Marable and Leith Mullings, Freedom: A Photographic History of the African American Struggle, London: Phaidon, 2002; Juan Williams, Eyes on The Prize: America's Civil Rights Years, 1954-1965, New York: Viking, 1987;
target=_blank>http://sclcnational.org/content/sclc/splash.htm.
Posted By:
Thursday, February 7th 2008 at 4:03PM
You can also
click here to view all posts by this author...