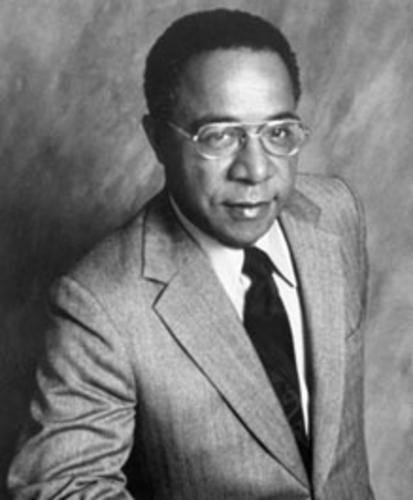 Alex Haley
(1921-1992)
Background and Early Years
American biographer, scriptwriter and novelist, whose most famous work is ROOTS, a publishing phenomenon and international bestseller. Haley traced in it his ancestry back to Africa and covered seven American generations, starting from his ancestor, Kunta Kinte. The book was adapted to television series, and woke up an interest in genealogy, particularly among Black people. Haley himself commented that the novel was not so much history as a study of mythmaking: "What Roots gets at in whatever form, is that it touches the pulse of how alike we human beings are when you get down to the bottom, beneath these man-imposed differences."
He said that three groups of people lived in every village. First were those you could see - walking around, eating, sleeping, and working. Second were the ancestors, whom Grandma Yaisa had now joined.

"And the third people - who are they?" asked Kunta.

"The third people," said Omoro, "are those waiting to be born."

(from Roots)
Alexander Murray Palmer Haley was born in Ithaca, N.Y., on August 11, 1921, as the son of Simon Alexander Haley, a teacher, and the former Bertha George Palmer, also a teacher. His mother, Bertha, died when Alex was only 10, and his father remarried two years later. Haley's father taught at several Southern colleges. In 1921, the family moved to the small town of Henning, Tenn. Alex lived there for five years. His grandfather owned the local lumber company and when he died, Haley's father took over the business. In Henning Alex heard stories from his maternal grandmother, Cynthia Palmer, who traced the family genealogy to Haley's great-great-great-great-grandfather. He was an African, called "Kin-tay," brought by slave-ship to America and named Toby there.
Haley did not excel at school or university. From 1937 to 1939 he studied at Elizabeth City Teachers College in North Carolina. During World War II Haley enlisted in the Coast Guard as a messboy. In 1941 he married Nannie Branch. The marriage ended in divorce in 1964, and in the same year Haley married Juliette Collins. They divorced in 1972. Haley's third wife was the former Myra Lewis of Los Angeles. "I'm just not a stationary husband," Haley once confessed.
His Love For Writing
Haley started to write adventure stories to stave off the boredom, and getting a new rating - chief journalist. For his fellow sailors he composed love letters, which they sent to their girlfriends and wives. His other writings Haley submitted for magazines for eight years and received countless rejection slips, before his first text was published. However, during these frustrating years he learned the basics of storytelling. In 1959, after twenty years of service, Haley left the Coast Guard to become a full-time writer. He wrote for Reader's Digest biographical features, interviewed Miles Davis for Playboy, and produced The Autobiography of Malcom X, his first major work. It appeared in 1965 and had an immense effect on the black power movement in the United States. Before publishing it, Haley worked with the spokesman for the Nation of Islam (Black Muslim) movement, Malcolm X (Malcolm Little, 1925-1965), for nearly two years, one year writing the text. From their conversations he created the story of Malcolm X, told in his own words. The book sold more than six million copies by 1977 in the United States and other countries.
Haley: What motives do you impute to Playboy for providing you with this opportunity for the free discussion of your views?

Malcolm X: I think you want to sell magazines. I've never seen a sincere white man, not when it comes to helping black people. Usually things like this are done by white people to benefit themselves. The white man's primary interest is not to elevate the thinking of black people, or to waken black people, or white people either. The white man is interested in the black man only to the extent that the black man is of use to him. The white man's interest is to make money, to exploit.
The autobiography depicts Malcolm X's experiences of racism in small towns, racial violence, criminal life, and his imprisonment. "When my mother was pregnant with me, she told me later, a party of hooded Ku Klux Klan riders galloped up to our home in Omaha, Neb., one night. Surrounding the house, brandishing their shotguns and rifles, they shouted for my father to come out. My mother went to the front door and opened it. Standing where they could see her pregnant condition, she told them that she was alone with her three small children, and that my father was away, preaching in Milwaukee." Malcolm's belief that he would not live to see the book proved to be correct: he was shot to death shortly before it went to press. Black Muslims viewed white people as a satanic force, but Malcolm X believed that orthodox Islam contained universal principles of brotherhood, which rejected race as a form of identity. "At the time of its publication, the autobiography thus became something more than an exposé of the American Black Nationalist movement: It was a personal witnessing by a black militant of the tenets of universal faith to which he, at least, attributed the potential to resolve the increasingly divisive struggle for civil rights all over the world. Possibly because his autobiography ended with a disavowal of the Black Power movement that was then gaining momentum, both the Nation of Islam and in more radical violence-oriented groups such as the Black Panthers, he fell to assassins' bullets fired by rival African Americans."
In 1965, when Haley was going through post-Civil War records in National Archives in Washington, D.C., he stumbled upon the names of his maternal great-grandparents. During a trip to the British Museum in London he saw the famous Rosetta Stone, which had unlocked the secret of the Egyptian hieroglyphs. The idea - to decipher a historic unknown by matching it with that was known, initiated an odyssey that took 11 years and which is now part of literature history. Relying his family tradition and research, Haley travelled to the village of Juffure, to trace his own ancestor and to meet with a native "griot," an oral historian, who could name Haley's own ancestor Kunta Kinte.
When Roots appeared in 1976, it gained both critical and popular success, although the truth and originality of the book raised some doubts. James Baldwin concluded in his New York Times review, that the novel suggests how each of us are vehicle of the history which have produced us. On the other hand - representing a minority opinion - Michael Arled dismissed the book and television series as Haley's own fantasies about 'going home.'
The story starts from Juffure, a small peaceful village in West Africa in 1750, and ends in Gambia, in the same village, after several generations. However, Haley did not claim that it is possible to return to some Paradise, but depicted realistically his ancestors' life and how the villagers suffered occasionally from shortage of food. "But Kunta and the others, being yet little children, paid less attention to the hunger pangs in their bellies than to playing in the mud, wrestling each other and sliding on their naked bottoms. Yet in their longing to see the sun again, they would wave up at the slate-colored sky and shout - as they had seen their parents do - 'Shine, sun, and I will kill you a goat!'"
In Juffure, among the villages, Haley realized in shock that the color of his skin was much lighter that theirs. Skeptics claimed that the griot, Kebba Kanji Fofana, an old man, was a well-known trickster and told the American visitor just what he wanted to hear. Ignoring these kind of rumors Haley donated money to the village for a new mosque. He also founded in the early 1970s with his brothers the Kinte Foundation to collection and preservation of Black-American genealogy records.
Inspiring a TV Series
Roots won in 1977 the National Book Award and a special Pulitzer Prize. In one year the book sold more than million copies and became the basis of courses in 500 American colleges and universities. Challenging the view of black history as explored in such works as Stanley M. Elkin's Slavery (1959), Haley showed that slaves did not give up all their ties to African culture, but humor, songs, words, and folk beliefs survived. The oppressed never became docile: Kunta Kinte suffered amputation of a foot for his repeated attempts to run away. He also valued his heritage so much that he insisted on being called by his real name Kinte, not by his slave name Toby.
Roots, the television miniseries, run from January 23 to January 30, 1977, and attracted some 130 million viewers - the largest audience up to then. Noteworthy, more people have seen the series than read the book. The idea of miniseries had not been used widely in the United States except on public television. ABC had in 1975-76 success with Rich Man, Poor Man, which encouraged the network to finance additional miniseries, including Roots. It was shown on eight consecutive nights, an hour or two each night. Each episode was complete within itself, ending in positive, hopeful note, exempt the sixth and seventh. - Roots, produced by ABC, was written by William Blinn, Ernest Kinoy, James Lee, and M. Charles Cohen, directed by David Greene, John Erman, Marvin J. Chomsky, Gilbert Moses, and starring Ed Asner, Chuck Connors, Carolyn Jones, O.J. Simpson, Ralph Waite, Lou Gossett, Lorne Greene, Robert Reed, LeVar Burton (as Kunta Kinte), Ben Veeren (as Chicken Geroge), Lynda Day George, Vic Morrow, Raymond St Jacques, Sandy Duncan, John Amos, Leslie Uggams, MacDonald Carey, George Hamilton, Ian MacShane, Richard Roundtree, Lloyd Bridges, Doug McClure, Burl Ives. - A second series, Roots: The Next Generations, was shown in 1979. It spanned the period from 1882 to the 1970s. The show run in six 96 minutes episodes.
Haley's later literary projects included the history of the town of Henning and a biograph of Frank Wills, the security guard, who discovered the Watergate break-in. In television series Palmerstown, USA (1980) Haley collaborated with the producer Norman Lear. The series was based on Haley's boyhood experiences in Henning. A Different Kind of Christmas (1988) was a short novella, in which a slave esacapes and the son of slaveholding Southern parents slowly realizes, that the practice of slavery is wrong. Queen (1993), completed by David Stevens, was a strong epic novel, which focused on Simon Alexander's side of the family.
In 1987 Haley left his home in Beverly Hills, Calif., and moved to Tennessee, his family's home state. Haley died of heart attack on February 10, 1992, at Swedish Hospital Medical Center in Seattle.
Haley's Playboy interviews with Malcolm X, Johnny Carson, Martin Luther King, Miles Davis, and others, written in the years between 1962 and 1992, have been published in an anthology. MAMA FLORA'S FAMILY (1998), based on Haley's writings and written by David Stevens, is a story of Flora, a Black girl born to a sharecropping family in Mississippi. Flora's life is followed from her childhood in the pre-World War I period to the present. The Civil Rights-Black Power paradigm, that caused disagreements in many Black families, is one of the central themes of the book.
Sources: wikipedia.org; Chronology of Twentieth-Century History: Arts & Culture, volume II, ed. by Frank N. Magill, 1998; Malcom X's interview by Alex Haley, Playboy, May 1963
Posted By:
Thursday, January 31st 2008 at 7:48PM
You can also
click here to view all posts by this author...