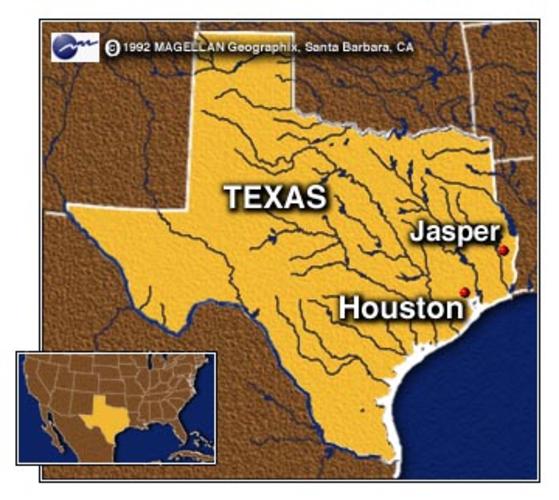 Jasper, Texas
Background and Summary
Jasper is a city in Jasper County, Texas, on the U.S. Highways 96 and 190, State Highway 63 and Sandy Creek. It is the place of an infamous hate crime: the brutal murder of a Black man named James Byrd. The population was 7,465 during the 2006 census. It is the county seat of Jasper County and is situated in East Texas and about 110 miles northeast of Houston.
The area was settled around 1824 by John R. Bevil, one of the earliest European-American settlers. Thirty families occupied the settlement as early as 1830, when it was known as Snow River or Bevil's Settlement after him. In 1835 it was renamed for William Jasper, a hero of the Revolutionary War who was killed while attempting to plant the American flag at the storming of Savannah, Ga. in 1779. Antebellum educational institutions included the Jasper Male and Female High School, which operated until 1878, when it became the Southeast Texas Male and Female College, and Jasper Collegiate Institute, which operated from 1851 until 1874. The population declined to 360 in 1870, reflecting the hardships of the Civil War, but by 1885 had risen to 1,000. A weekly newspaper, the Jasper Newsboy, has been published since 1865.
In 1896, Jasper had a population of 1,200. With the arrival of the Gulf, Colorado and Santa Fe Railway early in the 20th century, Jasper grew into a center for the manufacture of timber products. Jasper served as headquarters for the Lower Neches Valley Authority's construction program. Local farmers raised broiler chickens and beef, and in the 1950s farmers turned to dairying. Jasper also became the headquarters of Morgan and Lindsey Incorporated, variety chain stores, which at one time operated 85 stores in Texas, Arkansas, Louisiana and Mississippi.
The True Significance of Jasper
James Byrd Jr., was born on May 2, 1949 and was a Black man murdered in 1998 by three White young men: Shawn Allen Berry, Lawrence Russell Brewer, and John William King, in Jasper, Texas.
Byrd was born and raised in Jasper and was in the last segregated class to graduate from Jasper's Rowe High School. He was well-known around Jasper, and could frequently be seen walking about town, as he did not own an automobile.
On June 7, 1998, Byrd, who was 49 at the time, accepted a ride from three drunken White men named Shawn Berry, Lawrence Brewer, and John King. He had already known one of them. But instead of taking him home, the three men beat Byrd behind a convenience store, tied him to their pickup truck with a chain tied around Byrd's waist. Then they dragged his beaten body for about three miles. It was not known, at first, whether he was alive during the dragging. Although Brewer claimed that Byrd's throat had been slashed before he was dragged, forensic evidence suggests that Byrd had been attempting to keep his head up while being pulled behind the truck. An autopsy proved that Byrd was alive for much of the dragging and died after his right arm and head were severed when the truck hit a bump. Byrd's body ultimately got caught on a sewage drain on the side of the road, resulting in Byrd's decapitation. King, Berry and Brewer dumped their victim's mutilated remains in the town's Black cemetery and went off to a barbecue.
The next morning, Byrd's limbs were scattered across a very little used road. The police found 75 places littered with Byrd's remains. A wrench with Brewer's name was found within the area along with a lighter that had the Ku Klux Klan symbol on it. State law enforcement officials and Jasper's District Attorney Guy James Gray determined that since King and Brewer were well-known white supremacists, the murder was a hate crime, and decided to bring in the FBI less than 24 hours after the discovery of Byrd's remains. Brewer and King were sentenced to death. Berry received life in prison.
Jasper Goes Down In History
In 2003, a made-for-TV movie called Jasper, Texas, about the crime, starring Jon Voight, Louis Gossett Jr. and Don Cheadle was produced and shown on Showtime. That same year, a documentary called Two Towns of Jasper, made by filmmakers Marco Williams and Whitney Dow, premiered on PBS's P.O.V. series.
Jasper was also one of the primary locations for the recovery of the Space Shuttle Columbia wreckage in February of 2003.
Jasper was greatly affected by Hurricane Rita on September 25, 2005 as she moved inland. It suffered considerable damage. The town was also left without power or drinkable water for about three and half weeks. Many residents of Jasper felt then, and still feel, that FEMA overlooked them and the situation that Jasper and Jasper County were in. Even as late as mid-2007 there are still blue FEMA tarps in evidence on area roofs as some people continue to await funding to make repairs.
Sources: Wikipedia.com; "Justice in Jasper," Texas Observer, September 17, 1999; "Texas sheriff 'knew somebody was murdered because he was black'," CNN, February 16, 1999; "THE RELIABLE SOURCE" Annie Groer, Ann Gerhart. The Washington Post. Washington, D.C.: Mar 18, 1999. pg. C.03; King, Joyce. Hate Crime: The Story of a Dragging in Jasper, Texas. Pantheon, 2002
Posted By:
Wednesday, January 23rd 2008 at 3:22PM
You can also
click here to view all posts by this author...