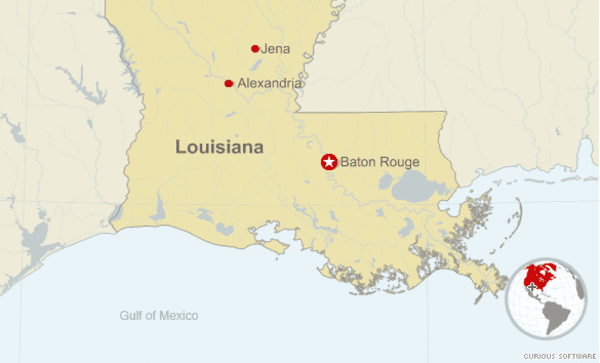 Jena, Louisiana
Background and Summary
The town of Jena (pronunciation: jen-NAH) is the seat of La Salle Parish, in the U.S. state of Louisiana. Its population was 2,971 at the 2000 census.
In September of 2007, Jena plunged into the national headlines in the United States for the racial tension surrounding the school system and the "Jena Six." The "Jena Six" refers to a group of six Black teenage boys who were charged as adults with harsh sentences for the beating of a peer, Justin Barker, a White teenager at Jena High School, on December 4, 2006. The beating followed a number of incidents in the town, of which the earliest that has been reported was when three White students hung nooses from a tree at Jena High School, after a black student asked permission from a school administrator to sit under the tree. The purpose of the nooses was to intimidate and threaten the Black students, as well as stir up memories of lynching.
Jena was named for Jena, Germany, where French Emperor Napoleon I won the Battle of Jena-Auerstedt in 1806. As of the census of 2000, there were 2,971 people, 1,135 households, and 749 families residing in the town. The population density was 552.7 people per square mile. There were 1,264 housing units at an average density of 235.2/sq mi. The ethnic makeup of the town was 85.56 percent White, 12.02 percent Black, 0.67 percent Native American, 0.47 percent Asian, 0.50 percent from other races, and 0.77 percent from two or more races. Hispanic or Latino of any race was 1.21 percent of the population.
There were 1,135 households, out of which 29.3 percent had children under the age of 18 living with them, 52.9 percent were married couples living together, 10.3 percent had a female householder with no husband present, and 34.0 percent were non-families. 31.4 percent of all households were 21 years of age or older. The average household size was 2.29 and the average family size was 2.86.
In the town of Jena, the population was spread out with 27.5 percent under the age of 18, 8.8 percent from 18 to 24, 22.5 percent from 25 to 44, 22.8 percent from 45 to 64, and 18.4 percent who were 65 years of age or older. The median age was 39 years. For every 100 females there were 98.9 males. For every 100 females age 18 and over, there were 84.7 males.
The median income for a household in the town was $30,938, and the median income for a family was $39,848. Males had a median income of $31,332 versus $18,317 for females. The per capita income for the town was $13,761. About 9.9 percent of families and 15.1 percent of the population were below the poverty line, including 20.2 percent of those under age 18 and 17 percent of those aged 65 or over.
History
U.S. Representative Speedy Long , a Segregationist Democrat, practiced law in Jena prior to his congressional service. He was later the La Salle Parish district attorney from 1973 to 1985. Considered the most conservative of the Long family candidates, he twice lost bids for governor of Louisiana and once for insurance commissioner. He ended up being a state senator from 1956 to 1964.
Jena and La Salle Parish have been heavily Republican since the end of the "Solid South" era. In 1972, Jena supported the Republican gubernatorial candidate David C. Treen, who lost that year to Edwin Washington Edwards. In the 2003 gubernatorial race, however, La Salle Parish voted for the Democratic Lieutenant Governor, Kathleen Babineaux Blanco, rather than the young Republican challenger, Bobby Jindal, an Indian-American who went on to be elected to the U.S. House of Representatives. Jena is the birthplace of former Louisiana Republican state chairman Mike Francis, an oil driller in Crowley and Lafayette. Francis headed the Louisiana Republicans from 1994 to 2000.
Town Growth
Wal-Mart Stores, Inc. has built a 100,000 sq. ft. Supercenter on U.S. Route 84 West, a main east-west route between Interstate 49 and Natchez, Mississippi. Ace Hardware opened a new 28,000 sq ft store in downtown Jena. Southern Heritage Bank opened its new two-story, 12,000 sq.ft. building. Homeland Federal Saving Bank from Columbia, Louisiana has opened a new branch in Jena. Arrows Industries opened a new expansion. They now employ over 100 people. Jena Town Hall has moved into the old Southern Heritage Bank building in downtown Jena. Dollar General has re-located to a larger facility across from McDonald's.
The La Salle Parish School Board is also located in Jena. The following schools serve Jena: Jena High School grades 9–12, Jena Junior High School grades 7 and 8, Goodpine Middle School grades 4–6 Jena Elementary School grades PreK – 3.
Thrust Into the Forefront of the Race Debate
Jena has gained international attention for "new 'stealth' racism" and "reverse discrimination" that lives on in the United States with focus through a National Public Radio prime time story on July 30. The town was also featured in a British Broadcasting Company documentary, This World: "Race hate in Louisiana."
The Jena Six case sparked protests by those who view the arrests and subsequent charges as excessive, unjust and racially discriminatory, especially as compared with the treatment of the White Jena youths involved in hanging the nooses, which should have been charged as a hate crime. However, U.S. Attorney Donald Washington investigated events in Jena and found "no indication of racially-motivated prosecutions." On September 20, 2007, between 10,000 and 20,000 people drove, flew and walked to Jena, Louisiana, from all over the country to protest the sentencing of the Black students vs. the White students. Thousands marched in Jena in what was described as the "largest civil rights demonstration in years." Related protests were held in other U.S. cities on the same day and the media covered all aspects of it. Interestingly, many of the largest protests that were organized were done so by students in high schools and colleges.
Posted By:
Wednesday, January 23rd 2008 at 2:02PM
You can also
click here to view all posts by this author...