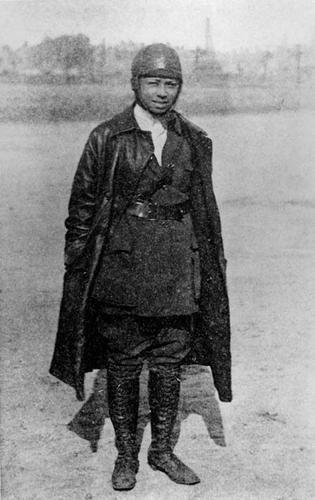 Bessie Coleman
(1892-1926)
Background and Early Years
Elizabeth "Bessie" Coleman was born on January 26, 1892, and is popularly known as "Queen Bess." She was the first Black woman to become an airplane pilot, and the first American woman to hold an international pilot license.
Born in Atlanta, Texas, Coleman was the tenth of 13 children. Her father, George Coleman, was of part Cherokee ancestry. Her parents were sharecroppers, yet her early childhood was a happy one spent playing in the front yard or on the porch. Sunday mornings and afternoons were spent at church. As the other children began to age and find work in farming, Coleman assumed responsibilities around the house. She looked after her sisters, helped her mother, Susan, in the garden, and performed many of the everyday chores of running the house.
Coleman began school at the age of six and had to walk four miles each day to her all-Black, one-room school. Despite sometimes lacking such materials as chalk and pencils, she was an excellent student. She loved to read and established herself as an outstanding math student. Coleman completed all eight grades in her one-room school. Every year, Coleman's routine of school, chores and church was interrupted by the cotton harvest. Each man, woman and child was needed to pick the cotton, so the Coleman family worked together in the fields during the harvest.
In 1901, Coleman's life took a dramatic turn. George left his family. He had become fed up with the racial barriers that existed in Texas. He returned to Oklahoma to find better opportunities, but Susan and the children did not go with him.
At the age of 12, Coleman was accepted into the Missionary Baptist Church. When she turned 18, she took all of her savings and enrolled in the Oklahoma Colored Agricultural and Normal University (now called Langston University) in Langston, Okla. Coleman completed only one term before she ran out of money and was forced to return home. Coleman knew there was no future for her in her home town, so she went to live with two of her brothers in Chicago while she looked for work.
An Air of Maturity
In 1915, at the age of twenty-three, Coleman moved to Chicago, and she worked at the White Sox Barber Shop as a manicurist. There she heard tales of the world from pilots who were returning home from World War I. They told stories about flying in the war and Coleman started to fantasize about being a pilot. Her brother used to tease her by commenting that French women were better than Black women because French women were pilots already. At the barbershop, Coleman met many influential men from the Black community, including Robert S. Abbott, founder and publisher of the Chicago Defender, and Jesse Binga, a real estate promoter. Coleman received financial backing from Binga, and from the Chicago Defender, who capitalized on her flamboyant personality and her beauty to promote his newspaper, and to promote her cause to become a pilot. She could not gain admission to American flight schools because she was Black and a woman. No Black aviator in the U.S. would train her either. So Abbott encouraged her to study abroad.
Coleman took French language class at the Berlitz school in Chicago, and then traveled to Paris on November 20, 1920. There, Coleman learned to fly in a Nieuport Type 82 biplane, with "a steering system that consisted of a vertical stick the thickness of a baseball bat in front of the pilot and a rudder bar under the pilot's feet." On June 15, 1921, Coleman became the first Black woman to earn an aviation pilot's license in the world — and the first Black woman to earn an international aviation license from the Fédération Aéronautique Internationale. Determined to polish her skills, Coleman spent the next two months taking lessons from a French ace pilot near Paris, and in September, took off for New York.
Coleman quickly realized that in order to make a living as a civilian aviator—the age of commercial flight was still a decade or more away—she would need to become a stunt flier, "barnstorming," and perform for paying audiences. But to succeed in this highly competitive arena, she would need advanced lessons and a more extensive repertoire. Returning to Chicago, Coleman could find no one willing to teach her, so in February of 1922 she flew again to Europe. She spent the next two months in France completing an advanced course in aviation, then left for Holland to meet with Anthony Fokker, one of the world's most distinguished aircraft designers. She also traveled to Germany, where she visited the Fokker Corporation and received additional training from one of the company's chief pilots. She returned to the United States with the confidence and enthusiasm she needed to launch her career in exhibition flying.
Female Daredevil
Coleman made her first appearance in an American air show on September 3, 1922, at an event honoring veterans of the all-Black 369th American Expeditionary Force of World War I. Held at Curtiss Field near New York City, and sponsored by Abbott and the Chicago Defender newspaper, the show billed Coleman as "the world's greatest woman flyer," and featured aerial displays by eight other American ace pilots. Six weeks later she returned to Chicago to deliver a stunning demonstration of daredevil maneuvers—including figure-eights, loops and near-ground dips—to a large and enthusiastic crowd at the Checkerboard Airdrome.
In September of 1921, she became a media sensation when she returned to the United States. Invited to important events and often interviewed by newspapers, she was admired by people of all ethnicities. In 1922, she participated at her first air show, in Long Island, N.Y. Coleman continued to perform in air shows, and actually survived several crashes. In Los Angeles, she broke a leg and three ribs when her plane stalled and crashed on February 22, 1922. She primarily flew Curtiss JN-4 "Jenny" biplanes and army surplus aircraft left over from the war. "Queen Bess," as she was known, was a highly popular draw for the next five years. But the thrill of stunt flying and the admiration of cheering crowds were only part of Coleman's dream. Coleman never lost sight of her childhood vow to one day "amount to something." As a professional aviator, Coleman would often be criticized by the press for her opportunistic nature and the flamboyant style she brought to her exhibition flying. However, she also quickly gained a reputation as a skilled and daring pilot who would stop at nothing to complete a difficult stunt.
Through her media contacts, she was offered a role in a feature-length film titled Shadow and Sunshine, to be financed by the African American Seminole Film Producing Company. She gladly accepted, hoping the publicity would help to advance her career and provide her with some of the money she needed to establish her own flying school. But upon learning that the first scene in the movie required her to appear in tattered clothes, with a walking stick and a pack on her back, she refused to proceed. "Clearly," wrote coworker Doris Rich, "[Bessie's] walking off the movie set was a statement of principle. Opportunist though she was about her career, she was never an opportunist about race. She had no intention of perpetuating the derogatory image most Whites had of most Blacks."
Spreading Her Wings
Unfortunately, Coleman would not live long enough to fulfill her greatest dream that was to establish, a school for young, Black aviators. But her pioneering achievements served as an inspiration for new generations of Black men and women. "Because of Bessie Coleman," wrote Lieutenant William J. Powell in the book, Black Wings published in 1934, which was dedicated to Coleman, "we have overcome that which was worse than racial barriers. We have overcome the barriers within ourselves and dared to dream." Powell served in a segregated unit during World War I, and tirelessly promoted the causes of Black aviation through his book, his journals and the Bessie Coleman Aero Club, which he founded in 1929.
On April 30, 1926, Coleman, now age 34, purchased a plane in Dallas and it had just been flown to Jacksonville, Fla., in preparation for an air show. Her friends and family did not consider the aircraft safe and implored her not to fly it. Her mechanic and publicity agent, William Wills, was flying the plane with Coleman in the other seat. Coleman did not put on her seatbelt because she was planning a parachute jump for the next day and wanted to look over the cockpit to examine the terrain. About ten minutes into the flight the plane did not pull out of a planned nosedive; instead it accelerated into a tailspin. Coleman was thrown from the plane at 500 feet and died instantly when she hit the ground. Wills was unable to gain control of the plane and it plummeted to the ground. Wills also died upon impact and the plane burst into flames. Although the wreckage of the plane was badly burned, it was later discovered that a wrench used to service the engine had slid into the gearbox and jammed it, causing the plane to spin out of control. Experts noted at the time that gears in more modern planes had a protective covering—an accident like this need not have happened.
On May 2, 1926, her funeral was attended by 5,000 mourners in Jacksonville, Fla. Many of them, including Ida B. Wells, were prominent members of Black society. Three days later her remains arrived in Orlando, Fla., where thousands more attended a funeral at the city's Mount Zion Missionary Baptist Church. Her body was finally laid to rest on May 5 at Chicago's Pilgrim Baptist Church. An estimated 10,000 people filed past the coffin all night and all day. After funeral services, she was buried in the Lincoln Cemetery."
Over the years, recognition of Coleman's accomplishments has grown. Coleman's impact on aviation history, and particularly Blacks, quickly became apparent following her death. In 1927, Bessie Coleman Aero Clubs suddenly sprang up throughout the country. On Labor Day, in 1931, these clubs sponsored the first all-Black Air Show, which attracted approximately 15,000 spectators. That same year, a group of Black pilots established an annual fly-over of Coleman's grave in Lincoln Cemetery in Chicago. Coleman's name also began appearing on buildings in Harlem, N.Y.
In 1989, the First Flight Society inducted Coleman in the shrine. It honors those individuals and groups that have achieved significant "firsts" in aviation's development. A conference room at the Federal Aviation Administration, second floor, Washington, D.C., is named after Bessie Coleman. In 1990, Chicago Mayor Richard M. Daley renamed Old Mannheim Road at O'Hare International Airport, "Bessie Coleman Drive." In 1992, he proclaimed May 2nd was Bessie Coleman Day in Chicago.
Mae Jemison, physician and a former NASA astronaut, wrote in her book, Queen Bess: Daredevil Aviator, published in 1993: "I point to Bessie Coleman and say without hesitation that here is a woman, a being, who exemplifies and serves as a model to all humanity: the very definition of strength, dignity, courage, integrity, and beauty. It looks like a good day for flying." In 1995, she was honored with her image on a U.S. postage stamp, and was inducted into the Women in Aviation Hall of Fame. In November of 2000, Coleman was inducted in The Texas Aviation Hall of Fame.
Sources: wikipedia.org; Rich, Doris. Queen Bess: Daredevil Aviator, Washington: Smithsonian Institution Press, p. 37, 1993; Powell, William J., Black Wings, Ivan Deach, Jr., 1934; Broadnax, Samuel L. Blue Skies, Black Wings: African American Pioneers of Aviation, Greenwood Press, 2007, p. 17; Bilstein, Roger. Aviation in Texas, Austin: Texas Monthly Press, 1985; King, Anita. Brave Bessie: First Black Pilot, Parts 1 and 2, Essence Magazine, May, June 1976; Hart, Philip S. Up in the Air: The Story of Bessie Coleman, First Avenue Editions, 1996; Johnson, Dolores. She Dared to Fly: Bessie Coleman, New York: Benchmark Books, 1997; Plantz, Connie. Bessie Coleman: First Black Woman Pilot, Enslow Publishers, 2001; Rich, Doris L. Queen Bess: Daredevil Aviator, Washington: Smithsonian Institution Press, 1993; Dallas Morning News, September 8, 1993; Houston Post-Dispatch, May 1, 1926; http://www.bessiecoleman.com/Other%20Pages/texas.html; http://www.firstflight.org/shrine/bessie_colman.cfm; http://www.wai.org/resources/pioneers.cfm#1995; http://www.bessiecoleman.com/Other%20Pages/release_1.html. style="mso-ascii-font-family: Calibri; mso-ascii-theme-font: minor-latin; mso-hansi-font-family: Calibri; mso-hansi-theme-font: minor-latin">
Posted By:
Thursday, January 17th 2008 at 4:14PM
You can also
click here to view all posts by this author...