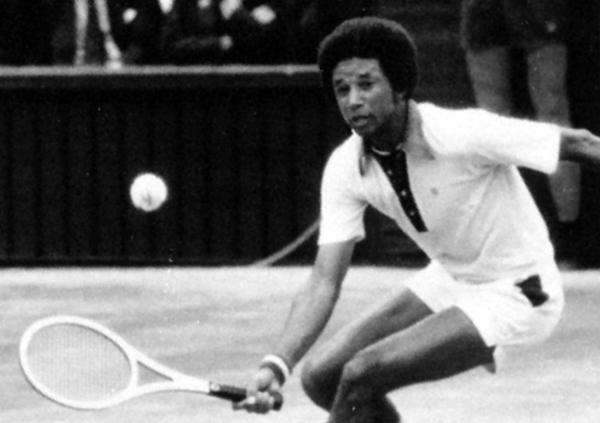 Arthur Ashe
(1943-1993)
Background and Early Years
Arthur Robert Ashe, Jr. was born July 10, 1943 and was a prominent Black tennis player who was born and raised in Richmond, Va. During his playing career, he won three Grand Slam titles. Ashe is also remembered for his efforts in social activism.
In his youth, Ashe was small and decided to start playing tennis. He was coached by Ron Charity, and was later coached by Walter Johnson. Tired of having to travel great distances to play against predominantly White youth teams in segregated Virginia, Ashe accepted an offer from a St. Louis tennis official to move to Missouri and attend Sumner High School. Soon, Ashe was being recognized by Sports Illustrated for his playing.
Ashe was awarded a tennis scholarship to the University of California at Los Angeles in 1963. That same year, Ashe became the first Black person selected to the United States Davis Cup team. In 1965, Ashe won the National Collegiate Athletic Association singles title and contributed to UCLA's winning the NCAA tennis championship. While at UCLA, Ashe was initiated as a member of the Upsilon chapter of Kappa Alpha Psi fraternity.
Ashe served in the U.S. Army from 1966-1968 and reached the rank of second lieutenant.
On February 20, 1977, Ashe married Jeanne Moutoussamy, a photographer he had met four months earlier. Andrew Young, the U.S. ambassador to the United Nations, performed the wedding ceremony at the U.N. chapel in New York. Ashe and Jeanne adopted one child together, a daughter, who was born on December 21, 1986. She was named Camera after her mother's profession.
Inspirational Wins
In 1968, Ashe won the inaugural U.S. Open and aided the U.S Davis Cup team to victory. Concerned that tennis professionals were not receiving winnings commensurate with the sport's growing popularity, Ashe supported the formation of the Association of Tennis Professionals. That year proved to be even more momentous for Ashe as he was denied a visa by the South African government, thereby keeping him out of the South African Open. Ashe used this denial to publicize South Africa's apartheid policies. In the media, Ashe called for South Africa to be expelled from the professional tennis circuit as another means of pressuring them to end the apartheid.
In 1969, Ashe became a professional tennis player. In 1970, he won his second Grand Slam singles title at the Australian Open. In 1975, Ashe won Wimbledon when he defeated Jimmy Connors unexpectedly in the final. He played for several more years, but after being slowed by heart surgery in 1979, Ashe retired in 1980.
Ashe remains the only Black player ever to win the men's singles at Wimbledon, the U.S. Open or Australian Open. He is one of only two men of Black ethnicity to win a Grand Slam singles title. The other is France's Yannick Noah, who won the French Open in 1983.
In his 1979 autobiography, Jack Kramer, the long-time tennis promoter and player, ranked Ashe as one of the 21 best players of all time.
After he retired, he took on many new tasks, including writing for Time magazine, commentating for ABC Sports, founding the National Junior Tennis League and serving as captain of the U.S. Davis Cup team. In 1983, Ashe underwent a second heart surgery. He was elected to the International Tennis Hall of Fame in 1985.
Hardships of the Heart
In 1979, Ashe suffered a heart attack, an event that surprised the public who knew how physically fit he was as an athlete. His condition drew attention to the hereditary aspect of heart disease. After a quadruple coronary-bypass operation, he appeared to have made a full recovery, but was obliged to give up competitive tennis.
The story of Ashe's life turned from success to tragedy in 1988, however, when Ashe discovered he had contracted HIV during the blood transfusions he had received during one of his two heart surgeries. He and his wife kept his illness private until April 8, 1992, when reports that the newspaper USA Today was about to publish a story about his condition forced him to make a public announcement that he had the disease. In the last year of his life, Ashe did much to call attention to AIDS sufferers worldwide. Two months before his death, he founded the Arthur Ashe Institute for Urban Health, to help address issues of inadequate health care and was named Sports Illustrated's Sportsman of the Year. He also spent much of the last years of his life writing his memoir, Days of Grace, finishing the manuscript less than a week before his death.
Ashe died from complications due to AIDS on February 6, 1993.
Arthur, the first Black male to win a Grand Slam event, was an active civil rights supporter. He was a member of a delegation of 31 prominent Blacks who visited South Africa to observe political change in the country as it approached racial integration after the apartheid.
He was arrested on January 11, 1985, for protesting outside the South African embassy in Washington D.C during an anti-apartheid rally. He was also arrested again on September 9, 1992, outside the White House for protesting on the recent crack-down on Haitian refugees who were trying to enter the United States. His wife wrote a book, Daddy and Me, a photographic journey told from the perspective of his young daughter. Another book, Arthur Ashe and Me, also gives young readers a chance to learn about his life.
After Ashe's death, his body lay in State at the Governor's Mansion in his home state of Virginia. The last time this was done was for Stonewall Jackson of the Confederate Army during the Civil War. The city of Richmond posthumously honored Ashe's life with a statue on Monument Avenue, a place that was traditionally reserved for statues of key figures of the Confederacy. This decision led to some controversy in a city that was the capital of the Confederate States during the American Civil War.
Honors and Awards:
Posted By:
Tuesday, January 15th 2008 at 5:27PM
You can also
click here to view all posts by this author...