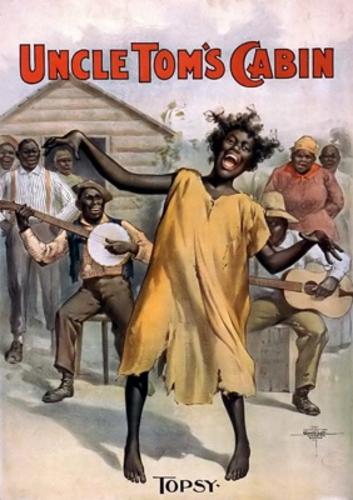 "Uncle Tom"
Background and Summary
Uncle Tom is a pejorative term for a Black person who is perceived by others as behaving in a subservient manner to White-Americans, or as seeking ingratiation with them by way of unnecessary accommodation. The term "Uncle Tom" comes from the title character of Harriet Beecher Stowe's novel Uncle Tom's Cabin, although there is debate over whether the character himself is deserving of the pejorative attributed to him.
It is commonly used to describe Black people whose political views or allegiances are considered by their peers as detrimental or non-progressive to Blacks as a group. A more offensive term with the same meaning is "house n**r," as contrasted with field workers, which stems from the days of slavery. In 2002, actor and singer Harry Belafonte used a variation of the term, White House n**r, to characterize certain political figures.
Native Americans in the United States sometimes will use the term "Uncle Tomahawk" to mean the same thing towards members of that ethnic group who are also perceived as traitors of their own race. Similarly, Hispanics in the U.S. may be referred to as "tio taco" or "tia taco" (from tío / tía, Spanish for uncle / aunt to mean the same thing as described.
In the 2007 Philadelphia mayor's race, Democratic hopeful Milton Street called fellow candidate Michael A. Nutter a "Watermelon Man" after a 1970 movie where a White man becomes Black. During a 1995 game between the New Jersey Nets and the Utah Jazz, Net's forward Derrick Coleman called Jazz's Karl Malone an Uncle Tom. During The Comedy Central Roast of Flavor Flav, comedian Jeffrey Ross suggested Uncle Tom as a nickname for Flavor Flav.
The term is typically used to describe someone who panders to the wants, needs and mandates of the majority ethnic group's social construct. It can be used to describe a Black man or woman who aspires to be like a White person in any way, attempts or assimilate completely and reject his or her roots in African or slave culture or by not sticking up for or standing up against laws, actions, biases, racism or any other detrimental event that has been put upon or happened to Blacks as a racial group. For example, a young Black boy who wants to dress, act and look a certain way, in that he will bleach his hair and his skin and talk or act in a way that is pleasing to and fits in with the White majority, all the while, he wants nothing to do with his African ancestry whatsoever, could be considered an Uncle Tom. Another example could be a Black woman who opposes programs that are meant to help Black people, such as Affirmative Action, and/or does nothing to keep these program from being eradicated in the 21st century or she may even advocate the obliteration of such policies; she may be considered an Uncle Tom.
The Book That Started It All
Uncle Tom's Cabin or sometimes known as, Life Among the Lowly, is an anti-slavery novel by author Harriet Beecher Stowe. Published in 1852, the novel had a profound effect on attitudes toward Blacks and slavery in the United States, so much so in the latter case that the novel intensified the sectional conflict leading up to the Civil War.
Stowe, a Connecticut-born teacher at the Hartford Female Academy and an active abolitionist, focused the novel on the character of "Uncle Tom," a long-suffering Black slave around whom the stories of other characters—both fellow slaves and slave owners—revolve. The sentimental novel depicts the cruel reality of slavery while also asserting that Christian love can overcome something as destructive as the enslavement of human beings.
Uncle Tom's Cabin was the best-selling novel of the 19th century and the second best-selling book of that century, following the Bible. It is credited with helping fuel the abolitionist cause in the 1850s. In the first year after it was published, 300,000 copies of the book were sold in the United States alone. The book's impact was so great that when Abraham Lincoln met Stowe at the start of the Civil War, Lincoln is often quoted as having declared, "so this is the little lady who made this big war."
The book, and the plays it inspired, have also helped to create a number of stereotypes about Blacks, many of which endure to this day. These include the affectionate, dark-skinned "mammy," the Pickaninny-stereotype of Black children and the Uncle Tom, or dutiful, pandering servant who is faithful to his White master or mistress. In recent years, the negative associations with Uncle Tom's Cabin have, to an extent, overshadowed the historical impact of the book as a "vital anti-slavery tool."
Sources: Wikipedia.com; A New Look at 'Uncle Tom's Cabin,' The Tavis Smiley Show, November 29, 2002; Ronald Radosh. "Harry's Hatreds," New York Post, October 24, 2002; Mark McDonald. "Milt (yep, that Milt) eyes mayoral tilt," Philadelphia Daily News, February 16, 2007; "New Jersey Nets forward Derrick Coleman calls Utah Jazz's forwards Karl Malone an Uncle Tom", Jet, April 3, 1995; Mike Wise. "PRO BASKETBALL; Coleman Speaks, And Beard Cringes", New York Times, March 17, 1995, p. Section B, Page 15; Osofsky, Gilbert. Puttin' On Ole Massa: The Slave Narratives of Henry Bibb, William Wells Brown, and Solomon Northup. Harper & Row, 1969.
Posted By:
Tuesday, January 8th 2008 at 1:18PM
You can also
click here to view all posts by this author...