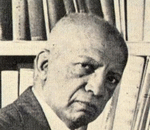 Carter G. Woodson
(1875-1950)
Background and Early Years
Carter Godwin Woodson was born on December 19, 1875, in New Canton, Va. He was a Black historian, author, journalist and the founder of Black History Month. He is considered the first to conduct a scholarly effort to popularize the value of Black history. He recognized and acted upon the importance of such people having an awareness and knowledge of their contributions to humanity and he, thus, left behind an impressive legacy. He is a member of Sigma Pi Phi and a member of Omega Psi Phi as well.
Woodson was the son of former slaves James Woodson and Eliza Riddle. His father had helped the Union soldiers during the Civil War, and afterwards James moved his family to West Virginia when he heard they were building a high school for Blacks in a town there. Coming from a large, poor family, Carter could not attend such schools regularly, but through self-instruction he was able to master the fundamentals of common school subjects by the time he was 17.
Hungry for more education, Woodson moved to Fayette County, to earn a living as a miner in the coal fields so that he could put himself through school, but he was only able to devote a few months each year to his schooling. In 1895, at the age of 20, Carter enrolled at Douglass High School where he received his diploma in less than two years. From 1897 to 1900, Woodson began teaching in Fayette County. In 1900, he became the principal of Douglass High School. Woodson finally received his Bachelor of Literature degree from Berea College in Kentucky. From 1903 to 1907 he was a school supervisor in the Philippines. He then attended the University of Chicago where he received his Master of Arts and Sciences in 1908, and in 1912 he received his Doctoral degree in history from Harvard University.
In 1915, Woodson and hi friend, Jesse E. Moorland, co-founded the Association for the Study of African American Life and History.
Developing His Theories
By this time Woodson had become convinced that the role of his people in American and world history was being either ignored or misrepresented among scholars. He realized the need for special research on the past of the negro. The Association for the Study of Negro Life and History, founded September 9, 1915, in Chicago, the result of his conviction. In that same year, published one of his most well-received books, The Education of the Negro Prior to 1861; Other books followed such as: A Century of Negro Migration published in 1918, The History of the Negro Church in 1927 and The Negro in Our History. In January of 1916, Woodson began the publication of the scholarly Journal of Negro History, which had never missed an issue but loss of the support from foundations because of two World Wars and the Great Depression. In 2002, it was renamed the Journal of African-American History and it continues to be published by the Association for the Study of African American History.
During this time, Woodson became affiliated with the Washington, D.C., branch of the National Association for the Advancement of Colored People, and became close with its chair, Archibald Grimke. On January 28, 1915, he wrote a letter to Grimke expressing his dissatisfaction with the way things were going. Woodson made two proposals in this letter: First, he said that the chapter secured an office for a center to which persons may report whatever concerns the negro race may have and the association may extend its operations into every part of the city. And second, he proposed that a canvasser be appointed to enlist members and obtain subscriptions for The Crisis, the NAACP publication edited by W.E.B. DuBois.
Woodson then added the daring proposal of "diverting patronage from business establishments which do not treat races alike." He wrote that he would cooperate as one of the 25 effective canvassers, adding that he would pay the rent for the office for one month. However, the NAACP did not welcome Woodson's ideas.
In a letter dated March 18, 1915, in response to a letter from Grimke regarding his proposals, Woodson wrote: "I am not afraid of being sued by white businessmen. In fact, I should welcome such a law suit. It would do the cause much good. Let us banish fear. We have been in this mental state for three centuries. I am a radical. I am ready to act, if I can find brave men to help me." Apparently, this difference of opinion with Grimke contributed to the termination of Woodson's short-lived affiliation with the NAACP. On September 9, 1915, Woodson met in Chicago with Alexander L. Jackson, executive secretary of the new negro YMCA branch. In addition to Woodson and Jackson, three other men were present: George C. Hall, W. B. Hargrove, and J. E. Stamps. At this meeting they formed the Association for the Study of Negro Life and History, Woodson was appointed to Executive Director, a post he held until his death.
The early years of the NAACP fell into difficult times, but it did not deter Woodson because in January of 1916, he wrote the Journal of Negro History, a quarterly publication. He distributed the first edition on his own initiative. The Journal's publishing coincided with the year of the arrival of Marcus Garvey. In 1926, Woodson single-handedly pioneered the celebration of "Negro History Week," the second week in February, which has since been extended to the entire month of February. Because of Woodson's belief in self-reliance and racial respect, it is only natural that the paths of Woodson and Marcus Garvey would cross; their views were very similar. Woodson became a regular columnist for Garvey's weekly Negro World.
Activism and Academia
Woodson's political activism placed him at the center of activity and was in contact with many black intellectuals and activists between the 1920s and 1940s. He corresponded with individuals such as W.E.B. DuBois, John E. Bruce, Arturo Alfonso Schomburg, Hubert H. Harrison, and T. Thomas Fortune among others. Even with the monumental duties connected with the NAACP, Woodson still found time to write extensive and scholarly works such as The History of the Negro Church, The Mis-Education of the Negro and many other books which continue to have wide readership today.
He was never one to shy away from a controversial subject, so he utilized the pages of Negro World to contribute to various fashionable debates of the time. One of these debates was on West Indian-Black relations. Woodson summarized that "the West Indian negro is free." He felt that West Indian societies had been more successful at properly dedicating the necessary amounts of time and resources needed to realistically educate and genuinely emancipate people. These opinions were the result of observing and approving of the efforts on the part of the West Indians to inject Black materials into their school curricula.
Woodson was often ostracized by many Black educators and intellectuals of the time because of his insistence on inviting special attention to one's race. At the time, these educators felt that it was wrong to teach or understand Black history as in any way separate from a general, and usually Eurocentric, view of American history. According to these educators, "negroes" were simply Americans, darker skinned, but with no history a part from that of any other citizen. Thus Woodson's efforts to get Black culture and history into the curricula of institutions, even historically Black colleges and universities, were often unsuccessful.
Woodson remained focused on his work throughout his life, never being deterred by the efforts of others. Many see him as a man of vision and understanding. Although Woodson was among the ranks of the educated few, he did not feel particularly sentimental to elite educational institutions. The association that he started in 1915, with the Journal of African American History still published as a quarterly journal, remains today.
Woodson's impact also includes the organization of the Associated Publishers that he created in 1920, the oldest Black publishing company in the United States, which published books concerning Blacks. At the time, such books were not something other publishing houses wanted to print; the establishment of "Negro History Week" in 1926 (now known as Black History Month); and the initial publication of the Negro History Bulletin, published continuously by the Associated Publishers since 1937, and originally created for teachers in elementary and high school grades. Woodson also influenced the direction and subsidizing of research in Black history by the association, and wrote numerous articles, monographs and books on Blacks. The Negro in Our History reached its eleventh edition in 1966, when it had sold more than 90,000 copies.
Woodson's most cherished ambition, a six-volume Encyclopedia Africana, was incomplete at the time of his death on April 3, 1950, at the age of 74. He is buried at Lincoln Memorial Cemetery in Suitland-Silver Hill, Md.
In 1992, the Library of Congress held an exhibition entitled, "Moving Back Barriers: The Legacy of Carter G. Woodson." Woodson donated 5,000 items from the 18th, 19th, and 20th centuries to the Library. His Washington, D.C. home has been preserved as the Carter G. Woodson Home National Historic Site.
Major Publications:















The History of the Negro Church








Schools Named After Him:











Sources:




Wikipedia.com; The Education of the Negro Prior to 1861 (1915); A Century of Negro Migration (1918); The History of the Negro Church (1921);The Negro in Our History (1922); Free Negro Owners of Slaves in the United States in 1830, Together With Absentee Ownership of Slaves in the United States in 1830 (1924); Free Negro Heads of Families in the United States in 1830, Together With a Brief Treatment of the Free Negro (1925); Negro Orators and Their Orations (1925); The Mind of the Negro as Reflected in Letters Written During the Crisis, 1800-1860 (1927); Negro Makers of History (1928); African Myths, Together With Proverbs (1928); The Rural Negro (1930); The Negro Wage Earner (1930); The Mis-Education of the Negro (1933); The Negro Professional Man and the Community, With Special Emphasis on the Physician and the Lawyer (1934); The Story of the Negro Retold (1935); The African Background Outlined: Or, Handbook for the Study of the Negro (1936); African Heroes and Heroines (1939); The Works of Francis J. Grimké (1942)



Posted By: Guest Visitor
Tuesday, December 11th 2007 at 11:58AM