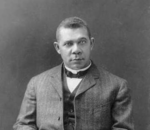 Booker T. Washington
(1856-1915)
Background and Early Years
Booker Taliaferro Washington was born on April 5, 1856 into slavery to a White plantation owner, of whom he knew very little, and a Black mother, Jane, on a rural farm in southern-central Virginia. This made him of mixed race, but the "one drop" rule ensured he grew up in the social category of "negro." The rule states a person with as little as a single drop of "Black blood" is thus considered Black no matter how far back in the family tree the blood was present. This notion stems from the long-discredited belief that every race had its own blood type correlating with physical appearance and social behavior. The antebellum South, especially, promoted the rule as a way of enlarging the slave population with the children of slave holders.
Washington was born in the Burrough's farm at the community of Hale's Ford, Va. His mother worked as a cook for his father the plantation owner. Under the laws of the time, his mother's status also made Washington a slave. His middle name, pronounced TAH-li-ver, was his owner's name. He was eight years old when slaves were freed by the 13th Amendment. After working menial jobs in West Virginia for several years, he made his way East to a school that later became Hampton University. Later, he attended Wayland Seminary. In 1881, he was recommended by Hampton president Samuel C. Armstrong to become the first leader of the new normal school, a teachers' college, which became Tuskegee University in Alabama, where he worked the rest of his life.
In the summer of 1865, at the age of nine, Washington, his brother John and his sister, Amanda, moved to Malden, W. Va., with their mother to join his stepfather, whose last name was Washington. He worked with his mother and other free Blacks as a salt-packer and in a coal mine. He even signed up briefly as a hired hand on a steamboat. However, soon he became employed as a houseboy for Viola Knapp Ruffner, the wife of General Lewis Ruffner, who owned the salt-furnace and coal mine. Many other houseboys had failed to satisfy the demanding and methodical Viola, but Washington's diligence and attention to detail met her standards. Viola encouraged young Booker, when he could, to attend school and learn to read and to write. And soon, he sought even more education than was available in his community.
Washington left Malden at 16 and enrolled at the Hampton Normal and Agricultural Institute, in Hampton, Va. Students with little income such as Washington could get a place there by working to pay their way. Hampton was founded for the purpose of training Black teachers and had been largely funded by church groups and individuals such as William Jackson Palmer, a Quaker, among others. In many ways Washington was back where he had started, earning a living through menial tasks, but his time at Hampton led him away from a life of labor. From 1878 to 1879 he attended Wayland Seminary in Washington, D.C., and then returned to teach at Hampton. Soon, Hampton president Samuel C. Armstrong recommended him to become the first principal of a similar school being founded in Alabama.
Washington was married three times. In his autobiography Up From Slavery, he gave all three of his wives enormous credit for their work at Tuskegee and was emphatic that he would not have been successful without them. Fannie Smith was from Malden, W. Va. Washington and Smith were married in the summer of 1882. They had one child, Portia. Sadly, Fannie died two years after they were wed, in May of 1884. Washington next wed Olivia Davidson in 1885. Davidson was born in Ohio, spent time teaching in Mississippi and Tennessee, and she received her education at Hampton Institute and then at Massachusetts State Normal School at Framingham. Washington met Davidson at Tuskegee, where she came to teach. She later became the assistant principal there. They had two sons, Booker Jr. and Ernest Davidson Washington. She also died only a few years later, in 1889. Washington's third marriage occurred in 1893, to Margaret Murray. She was from Mississippi and was a graduate of Fisk University. They had no children together. Murray outlived Washington, however, and died in 1925.
The Tuskegee Machine
Washington was a dominant figure in the Black community in the United States from 1890 to 1915, especially after he achieved prominence for his "Atlanta Address "speech that he gave in 1895. To many politicians and the public in general, he was seen as a popular spokesperson for Black citizens. Representing the last generation of Black leaders born into slavery, he was credible when speaking publicly and sought educational improvements for those freedmen who had remained in the New South. Throughout the last 20 years of his life, more or less, Washington maintained such a standing through a nationwide network of core supporters in many communities, including Black educators, ministers, editors and businessmen, especially those who were forward-thinkers. He gained access to top national leaders in politics, philanthropy and education, and was awarded honorary degrees. Critics called his network of supporters the "Tuskegee machine."
However, late in his career, Washington was criticized by the leaders of the NAACP, which was formed in 1909, for believing Blacks should assimilate into mainstream "White" culture and at times, pander to the majority. Especially critical was W.E.B. DuBois who demanded a harder line on civil rights protests. After being labeled "The Great Accommodator" by DuBois, Washington replied that confrontation with those against them would lead to disaster for the outnumbered Black population, and that cooperation with supportive whites was the only way to overcome pervasive racism in the long run. Although he did some aggressive civil rights work secretively, such as funding court cases, he seemed to truly believe in skillful accommodation to many of the social realities of the age of segregation. While apparently resigned to many undesirable social conditions in the short term, he also clearly had his eyes on a better future for blacks. Through his own personal experience, Washington knew that good education was a major and powerful tool for individuals to collectively accomplish that better future.
Washington's philosophy and tireless work on education issues helped him enlist both the moral and substantial financial support of many philanthropists. He became friends with such self-made men from modest beginnings as Standard Oil magnate Henry Huttleston Rogers and Sears-Roebuck Co.'s president, Julius Rosenwald. These individuals, and many other wealthy men and women, funded his causes including support for institutions of higher education at Hampton and Tuskegee. Each school was originally founded to produce teachers. However, graduates had often gone back to their local communities only to find precious few schools and educational resources to work with in the largely impoverished South. To address those needs through provisions of millions of dollars and innovative matching funds programs, Washington and his philanthropic network stimulated local community contributions to build local schools. Together, these efforts eventually established and operated over 5,000 schools and supported resources for the betterment of Blacks throughout the South in the late 19th and early 20th centuries. The local schools were a source of pride and were of priceless value to Black families at a time when public education was not readily available to them because of their skin color. This work was a major part of his legacy and was continued, and expanded through the Rosenwald Fund and others, for many years after Washington's death in 1915.
Washington did much to improve the overall friendship and working relationship between the races in the United States. His autobiography, Up From Slavery, first published in 1901, is still widely read today.
Adaptation is Key
Lewis Adams and other organizers of a new normal school in Tuskegee, Ala., found the energetic and visionary leader they needed in then 25-year-old Washington. With the strong recommendation of Hampton University's founder, Armstrong, Adams and Tuskegee's governing body hired Washington, even though such positions had always been held by Whites up until that time. Washington thus became the first principal of the Tuskegee Normal and Industrial Institute. The new school opened on July 4, 1881, and initially used space rented from a local church. The next year, Washington purchased a former plantation that became the permanent site of the campus. The school later grew to become the present-day Tuskegee University. He was head of the school until his death in 1915. By then Tuskegee's endowment had grown to over $1.5 million, compared to the initial $2,000 annual appropriation.
Tuskegee provided an academic education and instruction for teachers, but placed more emphasis on providing young Black men with practical skills such as carpentry and masonry. The institute illustrates Washington's aspirations for his ethnic group. His theory was: by providing such skills, Blacks would play their part in society and this would lead to acceptance by Whites. He believed that Blacks would eventually gain full civil rights by showing themselves to be responsible, reliable American citizens.
Washington's 1895 "Atlanta Compromise" address, given at the Cotton States and International Exposition in Atlanta was widely welcomed in the Black community and among liberal Whites North and South. He was supported by W.E.B. DuBois at the time, but several years later, the two had a falling out. Washington valued the "industrial" education oriented toward actual jobs that were available to the majority of Blacks at the time while DuBois demanded a "classical" liberal arts education among elite he called "the talented tenth." It should be noted, however, that despite not publicly condemning Jim Crow laws and the inhumanity of lynching, Washington privately contributed funds for legal challenges against segregation and disfranchisement. An example is the support he provided in the case of Giles v. Harris that went before the United States Supreme Court in 1903.
During this time, Blacks were solidly Republican, but after 1890, many lost the ability to vote in the South. Washington emerged as a spokesman and was routinely consulted by Republican national leaders about the appointment of Blacks to political positions throughout the nation. He worked and socialized with many White politicians, and he argued that the surest way for Blacks eventually to gain equal rights was for them to demonstrate patience, industry, thrift and usefulness.
Friends in High Places
Washington associated with some of the richest and most powerful businessmen and politicians of the era. He was seen as a spokesperson for Blacks and became a conduit for funding educational programs. His contacts included such diverse and well-known personages as Andrew Carnegie, William Howard Taft, John D. Rockefeller, Henry Huttleston Rogers and Julius Rosenwald, to whom he made the need for better educational facilities well-known. As a result, countless small schools were established through his fundraising efforts, in programs that have continued many years after his death. Washington, in 1901, was the first Black person to be invited to the White House as the guest of President Theodore Roosevelt. White Southerners complained loudly over this event. In an effort to inspire the "commercial, agricultural, educational, and industrial advancement" of Blacks, Washington founded the National Negro Business League in 1900.
Washington went on a previously planned speaking tour along the newly completed Virginian Railway, a $40 million dollar enterprise which had been built almost entirely from a substantial portion of Rogers' personal fortune. As Washington rode in the late financier's private railroad car, "Dixie," he stopped and made speeches at many locations, where his companions later recounted that he had been warmly welcomed by both black and white citizens at each stop. Later, Washington revealed that Rogers had been quietly funding operations of 65 small, country schools for Blacks, and that Rogers had given substantial sums of money to support the Tuskegee Institute and Hampton Institute. He also disclosed that Rogers had encouraged programs with matching-fund requirements so the recipients would have a stake in knowing that they were helping themselves through their own hard work and sacrifice and would, thereby, enhance their self-esteem.
Final Years
Despite his travels and widespread work, Washington remained principal of Tuskegee. But soon Washington's health began deteriorating rapidly; he collapsed in New York City and was brought home to Tuskegee, where he died on November 14, 1915, at the age of 59. The cause of death was unclear. He was buried on the campus of Tuskegee University near the University chapel.
At the time, his death was thought to have been a result of congestive heart failure. In March of 2006, with the permission of his descendants, his medical records were examined indicating that he died of hypertension. His blood pressure was more than twice what is normal, confirming what had long been suspected. At his death, Tuskegee's endowment exceeded $1.5 million. His greatest life's work, the work of education for Blacks had expanded and continues after his death.
For his contributions to American society, Washington was granted an honorary master's degree from Harvard University in 1896, and was given an honorary doctorate from Dartmouth College in 1901.
In 1934, Robert Russa Moton, Washington's successor as president of Tuskegee University, arranged an air tour for two Black aviators and, afterward, the plane was christened the Booker T. Washington.
Awards and Honors


At the center of the campus at Tuskegee University, the Booker T. Washington Monument, called "Lifting the Veil," was dedicated in 1922. The inscription at its base reads: "He lifted the veil of ignorance from his people and pointed the way to progress through education and industry."





Sources:





Wikipedia.com; Wright, Lawrence. "One Drop of Blood," The New Yorker. July 24, 1994; Washington, Booker T. The Awakening of the Negro, The Atlantic Monthly, 78 September, 1896; Up from Slavery: An Autobiography,1901; The Atlanta Cotton States Exposition Address,1895; The Booker T. Washington Papers University of Illinois Press; Booker T. Washington. James D. Anderson, The Education of Blacks in the South, 1860-1935, 1988; Mark Bauerlein. "Washington, Du Bois, and the Black Future," Wilson Quarterly, 2004; W. Fitzhugh Brundage, ed Booker T. Washington and Black Progress: Up from Slavery 100 Years Later, 2003; Louis R. Harlan, Booker T. Washington: The Making of a Black Leader, 1856-1900; vol 1., 1972; Louis R. Harlan. Booker T. Washington: The Wizard of Tuskegee 1901-1915, vol 2.,1983; Louis R. Harlan. Booker T. Washington in Perspective: Essays of Louis R. Harlan,1988; Louis R. Harlan. "The Secret Life of Booker T. Washington." Journal of Southern History 37:2, 1971; Linda O. Mcmurry. George Washington Carver, Scientist and Symbol, 1982; August Meier. "Toward a Reinterpretation of Booker T. Washington." The Journal of Southern History, 23 #2, pp. 220-227, 1957; Cary D. Wintz, African American Political Thought, 1890-1930: Washington, Du Bois, Garvey, and Randolph,1996.


Posted By: Guest Visitor
Friday, December 7th 2007 at 3:34PM