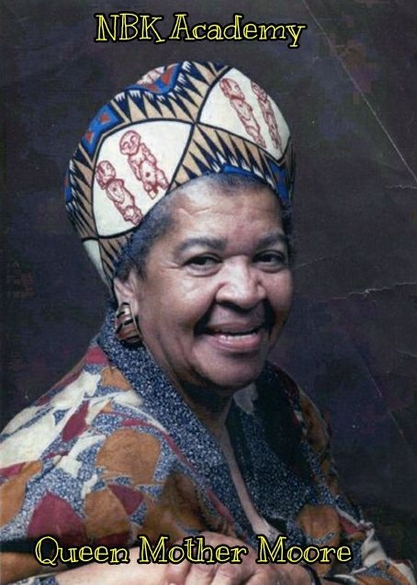 Queen Mother Moore
Was an African-American civil rights leader and a black nationalist who was friends with such civil rights leaders as Marcus Garvey, Nelson Mandela, Rosa Parks, and Jesse Jackson. She was a figure in the American Civil Rights Movement and a founder of the Republic of New Afrika.
After viewing a speech by Marcus Garvey, Moore moved to Harlem, New York, and later became a leader and life member of the UNIA. She participated in Garvey's first international convention in New York City and was a stock owner in the Black Star Line. Along with becoming a leading figure in the Civil Rights Movement, Moore worked for a variety of causes for over 60 years. Her last public appearance was at the Million Man March alongside Jesse Jackson during October 1995.
Moore was the founder and president of the Universal Association of Ethiopian Women as well as the founder of the Committee for Reparations for Descendants of U.S. Slaves. She was a founding member of the Republic of New Africa to fight for self-determination, land, and reparations. For most of the 1950s and 1960s, Moore was the best-known advocate of African-American reparations. Operating out of Harlem and her organization, the Universal Association of Ethiopian Women, Moore actively promoted reparations from 1950 until her death in 1996.
In addition, Moore was bishop of the Apostolic Orthodox Church of Judea. She was a founding member of the Commission to Eliminate Racism, Council of Churches of Greater New York. In organizing this commission, she staged a 24-hour sit-in for three weeks. She was a founder of the African American Cultural Foundation, Inc., which led the fight against usage of the slave term "Negro".
Sign Up:
NBK HISTORY BROTHERS Website
http://newblackknowledge1.connectplatform.com
Subscribe:
NEW BLACK KNOWLEDGE YouTube
www.youtube.com/c/NewBlackKnowledge
Instagram:
www.instagram.com/nbklyrad
Twitter:
www.twitter.com/nbklyrad
Facebook:
Join NBK SOCIAL GROUP
https://www.facebook.com/groups/NBKSocialGroup/
NBK ACADEMY BLACK HISTORY PAGE
https://www.facebook.com/NBKAcademy1/
Posted By: NEW BLACK KNOWLEDGE
Monday, April 9th 2018 at 10:39AM
You can also
click here to view all posts by this author...