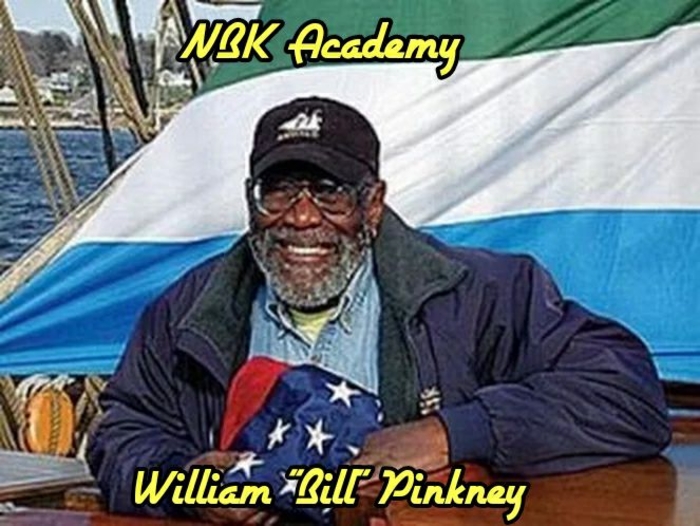 William "Bill" Pinkney is the first African American, and only the fourth person in the world to circumnavigate the globe alone by boat. Pinkney was born on September 15, 1935, in Chicago, Illinois to Marion Henderson Pinkney and William Pinkney, Sr. He attended Tilden Tech High School in Chicago, and after graduating received training as an x-ray technician.
After high school Pinkney had a variety of different jobs. He was on active duty in the Navy from 1956 to 1960 as a hospital corpsman. He decided to move to Puerto Rico after leaving the Navy and while there held a series of jobs including one as a professional limbo dancer. Eventually he hired on to work as a crewman on sailboats. Pinkney then moved to New York, trained to become a make-up artist and eventually landed a job at Revlon, the cosmetics company. From there he moved back to his hometown of Chicago to work for the Johnson and Johnson Company. By 1980, however, Pinkney was an employee of the city of Chicago.
Despite the variety of jobs, Pinkney continued his interest in sailing that he had developed in Puerto Rico and became particularly adept at sailing alone. At the age of 50, after thinking about the legacy he would leave behind for his two grandchildren, April and Brian Walton, Pinkney decided he would attempt to sail around the world alone to encourage them to think and do the impossible. After receiving funding from the industrialist Armand Hammer and a Boston law firm, Aldrich, Eastman, and Waltch, he began to plan his solo voyage.
Sign Up:
NBK HISTORY BROTHERS Website
http://newblackknowledge1.connectplatform.com
Subscribe:
NEW BLACK KNOWLEDGE YouTube
www.youtube.com/c/NewBlackKnowledge
Instagram:
www.instagram.com/nbklyrad
Twitter:
www.twitter.com/nbklyrad
Facebook:
Join NBK SOCIAL GROUP
https://www.facebook.com/groups/NBKSocialGroup/
NBK ACADEMY BLACK HISTORY PAGE
https://www.facebook.com/NBKAcademy1/
Posted By: NEW BLACK KNOWLEDGE
Monday, April 9th 2018 at 10:32AM
You can also
click here to view all posts by this author...