By Paul Collins
Photo: Khadim Mbacke plays a viola solo Saturday during a Black History program at Morning Star Holy Church in Martinsville.
Paul Collins
AXTON-In earlier times, people made quilts and clothing together. It wasn't just to be friendly. Out of need, people worked together.
Virginia Union University religion professor Boykin Sanders called for a return to that mindset Saturday, during a Black History Month program at Morning Star Holy Church. He asked the audience to stop competing with each other and start working together to build a better future. As an example, he suggested that the church members find some open land on the property and plant a vegetable garden. It's a group project that could benefit everyone. There are other ways people in a church or a community can work together and help each other, he said.
Also, Sanders spoke about tradition. He pointed out that when Africans were brought to America, they were made to abandon traditions of their homeland. He encouraged the African-Americans in the audience to have respect for their African heritage, to learn more about the traditions and history, the accomplishments of their ancestors. Africa as a continent has a long history and in order to move forward, people need to know where they came from, he argued.
For example, African empires dominated the known world over 2,000 years ago. There was the Kingdom of Kush, a regional power that ruled over an area along the Nile River in what is now Sudan. It was an economic power, running markets in ivory, incense, iron and gold. It even took over and ruled Egypt as the 25th Dynasty. It's citizens were also responsible for some of the first smelting practices, that is extracting things like copper and bronze from ore. The process, first used in 4,000 B.C. and before, was picked up by every empire from Rome to Carthage within a few centuries. And of course there was the empire of Carthage, a North African commercial hub that was recognized as a rival to ancient Rome. Carthage started in the 8th century B.C. and at its peak, the capital city had nearly half a million inhabitants and the empire's influence stretched from North Africa to Spain and parts of the Mediterranean. The Carthage general Hannibal is heralded as one of the greatest military commanders in history, having marched an army over the Alps into Italy and occupying the country for most of 15 years. He was considered on par, if not a better strategist than Julius Caesar and Mark Anthony. Sanders' point was that people need to learn about these parts of history and that African-Americans should feel pride in heritage like this.
Celebrating black history
Sanders, who serves as a professor of New Testament studies and a senior research scholar in religion and culture at Virginia Union University in Richmond, also brought up how people don't know who Carter Woodson is or recognize his contribution. Woodson was a historian who created the Black History Month concept. In 1926, Woodson and the Association for the Study of Negro Life and History first announced that the second week of February would be "Negro History Week." Woodson said that date was selected because it coincided with both the birthday of Frederick Douglass on Feb. 14 and that of Abraham Lincoln, two days earlier. Originally, it was adopted by just three states, including the Department of Education in North Carolina, Delaware and West Virginia.
Woodson's argument was that a race of people needs to understand its history and traditions, so that information doesn't disappear.
"If a race has no history, [if] it has no worthwhile tradition, it becomes a negligible factor in the thought of the world," Woodson wrote in 1926 in the Negro History Bulletin, as he explained the need for what was then a Black History Week.
It took nearly 40 years for that week to be expanded into Black History Month. The Black United Students at Kent State University first launched the monthlong celebration in February 1969. Six years later, President Gerald Ford recognized Black History Month during the celebration of the United States Bicentennial.
Morning Star Holy Church's Black History Month program also featured congregational singing, vocal and instrumental solos, as well as different people from the church portraying great black historical figures. Roughly 50 people attended the event, of which Mary Farris was the program coordinator and presided.
Paul Collins reports for the Martinsville Bulletin. He can be reached at paul.collins@martinsvillebulletin.com​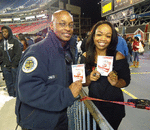 Posted By: Elynor Moss
Monday, February 26th 2018 at 11:58AM
You can also
click here to view all posts by this author...