Hampton University alumna and two-time Academy Award and Emmy nominated costume designer Ruth Carter's latest blockbuster film "Black Panther" shattered box-office projections with a $404 million word-wide opening weekend. According to Disney, the Marvel Studios film will total roughly $235 million over President's Day weekend in North America alone.
"What a great moment for Hampton University, to see a Hampton University alumna in such a key role within a landmark movie," said Hampton University President Dr. William R. Harvey. "Words cannot capture my pride at seeing a talented alumna positively displayed for the world to see!"
Carter, a 1982 graduate of Hampton University's Department of Fine and Performing Arts, majored in Theatre Arts and has worked in the entertainment industry for over three decades. Carter holds the distinction of being the first African-American costume designer to be nominated for an Academy Award.
"Black Panther" was one of the most highly anticipated films of 2018—not just because of its tie-in for fans of Marvel Comics, but also for its take on African fashion. Since the release of the first trailer, fans have been amazed by the costumes in the movie's world of Wakanda. Some movie goers went so far as to even wear African inspired attire to the cinema.
"Wakanda is this vast unknown world and, ultimately, the challenge of the unknown is what appealed to me on so many levels," said Carter. "Beyond what has been established in the comic realm, I knew very little about it, but as I began my research, I realized we could create, from a place of fantasy, a place of African culture and a place of imagination. Everybody had their own take on what Black Panther's world was but it had never really been translated to film, which was very exciting."
Carter's unparalleled ability to develop an authentic story through costume and character has made her one of the most sought after and renowned costume designers today. Known for her research and diligence to the craft, specifically for her outstanding work in period ensemble films like "The Butler", "Selma," and "Roots."
Carter has garnered two Academy Award nominations for Best Costume Design for Spike Lee's "Malcom X" in 1993 and Steven Spielberg's "Amistad" in 1998. Over Carter's three decades in entertainment she has worked with some of the top directors in Hollywood including Spike Lee, Lee Daniels, Reggie Hudlin, Steven Spielberg and now Ryan Cooglar.
Together with Lee, they have worked on over a dozen film projects beginning with "School Daze" and including "Do The Right Thing," "Malcolm X", "Old Boy," "Da' Sweet Blood of Jesus," and "Chi-Raq." Carter is a collaborator with other filmmakers on many notable films including "What's Love Got To Do With It," "Black Dynamite," and "Sparkle."
Carter anchored the look for Gabrielle Union in "Being Mary Jane," and forged comedic style in "Keeping Up With the Joneses." Some of Carter's recent projects include "Kidnap," starring Halle Berry, "Motherland," and "Marshall," a story about a landmark NAACP case fought by Thurgood Marshall starring Chadwick Boseman, who also plays the titular character in "Black Panther."
Hampton University News is produced and published by the Hampton University Office of University Relations, 757-727-5253.
http://news.hamptonu.edu/release/Hampton-University-Alumna%27s-Latest-Costume-Design-Project-%27Black-Panther%27-Breaks-World--Wide-Box-Office-Records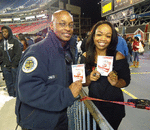 Posted By: Elynor Moss
Thursday, February 22nd 2018 at 11:43AM
You can also
click here to view all posts by this author...