creditorsdebtorscontracts@yahoo.com
The PEOPLE OF THE STATE OF GERORGI or any other state is a corporation. Did you know that this corporation cannot make sworn statements for it is a fictional entity because it is not a living thinking being, it is a fiction and has no substance to it?
Your question should be, where then is the real party in interest, the one making claim against you? Wake up family, it is no where to be found, there is no one. Without a sworn statement the unverified declarations of a claimant do not stand as evidence anywhere. Instead of automatically answering questions and accepting allegations without proof, we can stand in our power and bring harmony to the situation as creditor, yet you fight to remain a debtor in their Matrix. . As a creditor your not concerned with being right and proving another wrong, on the contrary, you are acting as an ambassador of peace, an agent of resolution who looks to bring settlement and who works to resolve the issue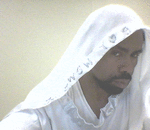 Posted By: Tazadaq Shaah
Wednesday, July 26th 2017 at 12:47PM
You can also
click here to view all posts by this author...