Tazadaq's teachings are clear about this: When it comes to getting your remedy in any situation where a claim is being made against you, your power lies in turning the claim upon the claimant. In arguing, defending, and/or ignoring no remedy is to be found. Tazadaq Shah a Creditors,teaches this valuable lesson in this book. The way we bring resolution and remedy to the matter is by being in harmony with the claimant, by accepting their position but with our own conditions attached. And we do this by asking a question, by conditionally accepting. This is also known as a counteroffer. And this is very important, because a counteroffer has the legal effect of rejecting the offer. A contract is in motion, offer and counteroffer is taking place until an agreement is made. An agreement made, that is either expressed or implied such as through silence/ non-response, also called tacit acquiescence. In order that we do not acquiesce and depose our selves of our sovereign status, we conditionally accept the claim, upon proof of claim.
Click the link below now to order Commercial Warfare: we the people vs Despotism
https://www.amazon.com/Commercial-Warfare-people-Despotism-Acquiescence/dp/0997978139/ref=sr_1_2?ie=UTF8&qid=1492524754&sr=8-2&keywords=commercial+warfare+we+the+people+vs+despotism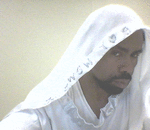 Posted By: Tazadaq Shaah
Thursday, April 20th 2017 at 9:35AM
You can also
click here to view all posts by this author...