Incantation of words by Lawyers in color of law courts from Tazadaq an idiotís (common Law) Are you one of the People of the America ( Amexem), as contemplated by the U.S. Constitution Preamble? Or, are you one of the citizens of the United States, as defined in the U.S. Constitution 14th Amendment? Your answer affects the rights you have.
Whenever i, man show up in their courts if there are charges against my person that are harsh I always make it clear that I am an idiot and do not understand the charges. i always put everything in writing prior to going to their court. And whenever they question me I always answer it in the form of a question. Even though I tell them I am an idiot I know that the one that are asking is ďas- kingĒ ( as the king).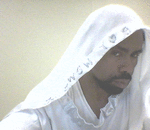 Posted By: Tazadaq Shaah
Thursday, March 2nd 2017 at 12:21PM
You can also
click here to view all posts by this author...