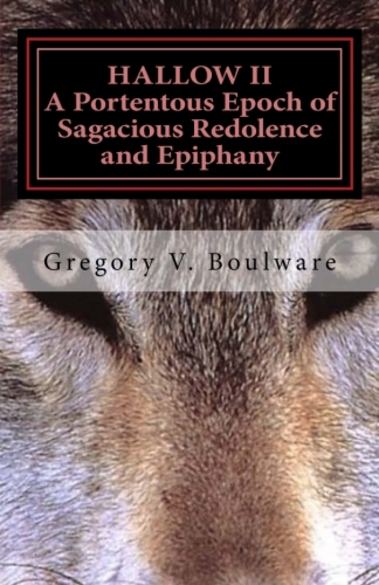 HALLOW II, The Kindle Edition
By
Gregory V. Boulware, Esq.
https://www.amazon.com/HALLOW-II-Portentous-Sagacious-Redolence-ebook/dp/B06WRVL9QF/ref=sr_1_1?s=digital-text&ie=UTF8&qid=1487566044&sr=1-1
"The Rails, Some Hemp, and A Hanging"
In France I was broke, poor, and penniless… Here in South Louisiana, I have become rich, powerful, and wholesome. I have more than a hundred acres of land manned by two-hundred and eighty-five of the best young and strong Black livestock in the territory.
A couple, maybe three of four birds chirped and sang in the distance. There could not have been any more than that, I'm sure. The Yankee soldiers outside reveled in their mastery while enjoying the aromatic scents of 'Hemp' and 'Moonshine.' There was no other way to get liquor other than someone making it themselves. There was no store-bought liquor to be had for miles in any direction. The company had its share of 'shiner's' on both sides of the war-torn fences. Their horses bayed and pranced in the cold damp yet dark beginning of the day's morn. My hanging tribunal was short and to the point. My foolish guilt could not be reversed, albeit, my hatred for these 'Blue-Coats' and their Black supporters surpasses my pain and sorrowful agony. I do long for the fragrance and joys of home… My dear sweet 'Abbey,' my darling wife and young'uns; my plantation and memories of France...
"Underfoot"
I was a vile individual who had every reason to believe that I could make and escape of paying the price for taking the life of an innocent soul."
The truth is he was not as completely innocent as some would have you think…
I laugh to think I was brought here by my father along with the family from the cold dark and dank alleyways of 'Edinburgh.' To think my life so bad that we had to move away to another town filled to the gullet with more cold dark and dank alleyways. Some call the eerie traverse-ways as bastions of hell's corridors. These causeways are the birth canals of the butchering 'Ripper.'
My course throughout has lead me astray due to the raptures and starving readiness of servitude. A short stay in 'Her Majesty's Royal Navy did me no good either. After cutting a man's throat from ear to ear, they tossed me in the bloody brig intent on making a date with...
"Howl Of An Angel"
He made no bones about his hatred for mankind. He vowed to kill or destroy every man, woman, and child of humanity – "all of them by any means necessary!"
While he usually or never has a direct physical contact with the masses, others are at the behest of his directives and desire.
…The weary rain soaked man stumbled upon the pathway to the door of the keep. He pounded upon the over-sized oaken doors with a weak and fumbled attempt. It was cold and dark. The heavy icy rain pounded down on the weary traveler to no end. He was sick. He needed shelter and warmth…now!
"Bowery Of The Crimson Frock and Flesh"
Would you not agree…?
The mentality of the analytical mind is usually in and of itself susceptible to analysis. Some people only appreciate them only for the resulting effectiveness. Among other things, we've come to know that they are always, when inordinately possessed by the possessor, the source of great enjoyment. Just like the strongman of a bodybuilder who tends to show off his muscles with feats of strength. Dis-tangling the tangled and puzzling webs of deception delights in exercises of gray cell exertion; To this type of personality, pleasure is derived from the most trivial of occupations that employ their particular talents.
By complete and utter observation, this opportunity allows the portrayal of the higher powers of the reflective intellect. Men and women of the highest order of intellect have been known to take an...
"One day men will look back and say, I gave birth to the twentieth century"
"When There's No More Room In Hell"
That part of the Wissahickon Creek was the best spot to watch the wild ducks, geese, and other natural wildlife. It was beautiful…so picturesque and serene.
Sometimes, we would use the entranceway off 'Bells Mill Road' into the parking area from Henry Ave. / Ridge Pike in Roxborough or from Chestnut Hill via Germantown Avenue. The fresh water stream was always a pleasure to splash around in or a simple wade in the beautiful cool water would be sufficient.
The fish were always jumping while anglers donned their prize gear in their pursuit. Usually it was the fish that enjoyed the last laugh.
The pedestrians and equestrians reveled in the park's courses of pathways and trails throughout the region. Another favored entranceway into the grotto like valley was Mount Airy's Cherokee Lane from Allens Lane near the Lincoln Drive. The wondrous beauty and mystery of Philly's Fairmount Park was simply adored by all and who resided and those who visited. But just as much as it is alluring it was also a most deadly place as well.
My name is Salestian Michaels. I'm currently employed by the 'Philadelphia Sunny Globe Newspaper Organization and International News Network.' I was born and raised in South Philly, the heart and soul of 'Mafiosi Life.' Angel Brondidi and Nick the Needle ran it all when they weren't at odds with one another.
I was there when Captain Willis Samuel and National Forestry Service Ranger Commander Gerald Glenn confronted and eradicated the monster beast in the park. I didn't like Glenn very much, although I admired him. He was damn good at what he did. It was his woman that I liked…
"Regatta"
A regatta often includes social and promotional activities which surround the racing event, and except in the case of boat type (or "class") championships, is usually named for the town or venue where the event takes place.
The April Spring brought about practices for the season's upcoming round of the Regatta races, the river was swarming with sculls and other watercraft.
The police were called to a home on Ridge Avenue near 33rd and Dauphin Streets. The middle-aged woman complained that her mid-sized German Sheppard mix went missing.
"During our daily walk in the park, I usually let him run across the field. He'll usually chase a squirrel of two, a rabbit, or he'll check out what's moving in the bushes. Then he'd turn and comeback with his tail wagging and a joyful looking pant. You know, like he's having a real good time doing his thing. Well, this one time, I turned my head for a few moments while sitting on the bench. I may have nodded off for a couple of minutes, when I felt a lil' chilly. I called for 'Chauncey.' I never had to do that before. He'd always be here waitin' to go home. This time, he wasn't. He didn't answer my call. He was nowhere to be seen.
"The Catharsis Table"
And so death walked in the front door, ravaged the deck, and out the back. The curse of the beautiful but wicked womb beckoned unto the semen of the young at heart.
The neighborhood history records those old dwellings to have been the servant's quarters to the households of mansions and large houses on nearby 'Walnut Lane.'
The old domains were said to be the suburban houses of doctors, lawyers, and other so-called professionals who practiced and prospered in "Olde City Philadelphia,' just down-wind via the "Great Road."
Today, the quarters are not far removed from its former occupants. The current owner's income consists of approximately below poverty level designations.
A few of the regulars do enjoy a joint or two with their order of a shot and a brew. They bring their own weed although a simple telephone call could provide delivery service. She didn't mind much when we lit up. She never failed to grace the table with her rendition of reefer's effect on her.
"I didn't think anybody could smell it on me – I didn't even drink that much!"
The kids on the bus caught wind of it first. They laughed and talked about the funny-looking old black man. They laughed at the way his haggard apparel hung on him.
"Why was he wearing three layers of shirts under his soiled smelly and heavy overcoat?" He was saddled with a scraggly beard and unwashed face – he was always totting a disheveled appearance while believing he looked okay as well as being comfortable and presentable - he sure as **** did not.
The telephone rang at Gerry's house on Cosgrove Street. Someone had been shot. It was someone that we all knew. She was shot by her boyfriend and bedfellow with that long-assed Wyatt Earp looking magnum we'd seen him play with on more than one occasion. The local television news merely touched upon the tragedy. However, the neighborhood of East Germantown was all a buzz over the shooting fandango. I had just seen the man when he blew past me on Walnut Lane on a late Friday afternoon, in his beat up ole sun-baked dull white and gutted ford passenger van. It was equipped with a CB radio. I know this because he used to talk back and forth over the air on it with me on mine.
"Yo G'Man…I'll see you when I get back. I'm on my way to pick up some money!"
"Ajantala"
"Religion is the sigh of the oppressed creature, the heart of a heartless world, and the soul of soulless conditions. It is the opius of the people"
The man with the heart problem was stabbed. Everyone thought the man would surely die. That is, everyone except Dr. Dan. It was found that the man was still bleeding internally. Dr. Dan opened the wound and found that the man had been stabbed in the heart. There was a hole in the man's heart that was causing the bleeding. Dr. Dan decided to try to save him. He operated...
While she was pregnant, old people of the village warned him. They told him to "stop killing the bush animals. If you continue to do so, you will kill the baby...
"Ha! Look at this 'Baby,' standing here and walking all at the same time He is born!" The people all exclaimed with embarrassment. "Heigh! I've never seen a woman give birth to such a terrible baby as this one!" screamed the suffering woman.
And when he took the soap and sponge and washed from himself all the blood and goo away from his body, he wrapped himself in an article of clothing owned by his mother. He then sat upright atop a high stool and looked at..."
"Ignorance Is Not Bliss"
"My Name is Legion: For We Are Many!"
~ Is this a refusal of Heavenly Knowledge and Wisdom, Refusing The Word of God? ~
It Is Written:
"My people are destroyed for lack of knowledge because thou hast rejected knowledge, I will also reject thee that thou shalt be no priest to me; seeing thou hast forgotten the law of thy Elohim, and I will also forget thy children."
Obviously, to host this large event on a global scale, massive expenditures of resources; human capital, real estate, and dollars; denizens of the county and borough(s) have dreaded this extraordinary move for a long time coming. The masses of this city simply haven't been the type to embrace such a maddening crowd, particularly those residing closely around the Art Museum and Center City areas like 'Fairmount,' the West Philly area near 52nd Street and City Avenue, and all along the Papal Travel Route.
For the love of 'The Phillies,' 'The Eagles,' 'The Sixers,' 'Cheese-Steaks,' and 'Hoagies,' this city is one of the poorest major metros in the country. Hospitality afficianados and city officials acted as though the hotels were being maxed out – no empty beds – sold out! It didn't happen. Special transportation passes were expected to be all sold out while hundreds remained available for sale. Schools, Official offices, and City Services were closed. Philly's residents packed and left town in droves because of this massive influx of bodies from across the land and around the globe.
We carefully secure our houses with bolts and locks to protect our property and our lives from evil men; but we seldom think of the evil angels who are constantly seeking access to us, and against whose attacks we have, in our own strength, no...
"Without Fools, There Would Be No Wisdom!"
"The Egyptian Book Of The Dead"
The Company of the Gods rejoiced, rejoiced, at the coming of Horus, the son of Osiris, whose heart was firm, the triumphant, the son of Isis, the heir of Osiris."
She uttered the spell with the magical power of her mouth. Her tongue was perfect, and it never halted at a word. Beneficent in command and word was Isis, the woman of magical spells, the advocate of her brother.
Thou art the Soul of Ra, his own body, and hast thy place of rest in Henensu (Herakleopolis). Thou art the beneficent one, and art praised in Nart. Thou makest thy soul to be raised up. Thou art the Lord of the Great House in Khemenu (Hermopolis). Thou art the mighty one of victories in Shas-hetep, the Lord of eternity, the Governor of Abydos.
Thou didst stand up and smite thine enemy, and set thy fear in thine adversary. Thou dost bring the boundaries of the mountains. Thy heart is fixed, thy legs are set firm. Thou art the heir of Keb and of the sovereignty of the Two Lands (Egypt). He (Keb) hath seen his splendours, he hath decreed for him the guidance of the world by...
The Kindle Edition:
https://www.amazon.com/HALLOW-II-Portentous-Sagacious-Redolence-ebook/dp/B06WRVL9QF/ref=sr_1_1?s=digital-text&ie=UTF8&qid=1487566044&sr=1-1
HallowI - HallowII:
https://www.amazon.com/s/ref=dp_byline_sr_ebooks_1?ie=UTF8&text=Gregory+Boulware&search-alias=digital-text&field-author=Gregory+Boulware&sort=relevancerank
~BoulwareEnterprises~
http://boulwareenterprises.com/-_A_Portentous_Epoch_~.html
https://www.amazon.com/Hallow-Gregory-Boulware-ebook/dp/B01MDRWT7P/ref=sr_1_2?s=digital-text&ie=UTF8&qid=1487575228&sr=1-2
The Newly Revised Edition In Paperback!
'HALLOWI'
https://www.amazon.com/gp/product/1468003402/ref=kinw_rke_rti_1
'HALLOWII'
https://www.amazon.com/HALLOW-Portentous-Sagacious-Significant-Perceptive/dp/1518770223/ref=la_B00OI16PDI_1_1?s=books&ie=UTF8&qid=1487575762&sr=1-1
'AMAZON'
https://www.amazon.com/Gregory-V.-Boulware/e/B00OI16PDI/ref=ntt_dp_epwbk_0
*/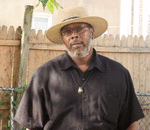 Posted By: Gregory Boulware, Esq.
Monday, February 20th 2017 at 3:09AM
You can also
click here to view all posts by this author...