The Mr. Clean we've come to know over the past 59 years is in need of a break. And for good reason — he's been keeping our houses clean for a long time. So, for the next year, America's favorite muscled cleaner will be taking a vacation.
In his place comes Mike Jackson.
Jackson, from Atlanta, Ga., is like the OG Mr. Clean in a lot of ways. He's bald and has the same muscular physique, bright white teeth, and a gold earring.
He even has a predilection for cleanliness.
"I'm actually kind of a neat freak," Jackson told Yahoo Beauty over the phone Thursday. "I'm kind of OCD in my home. Over the holidays I had my family over, and my mom would, you know, move things and I would have to move them back. I don't think too many guys care about that kind of stuff, but, like, I care about how dishes are washed." It's a distinct but telling quirk.
But a notable difference between Mr. Clean the cartoon — who which was first created 59 years ago and has not changed much since — and Mr. Clean, his yearlong stand-in, is that Jackson is black.
The switch is the latest in a string of moves companies are making to diversify their faces, and beauty brands like those under the P&G umbrella, such as CoverGirl, are helping to lead that charge.
It seems that such concerns didn't really play into Jackson's decision to enter the competition to become the face of the brand; it was just synergy.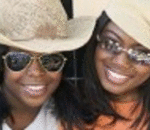 Posted By: Siebra Muhammad
Saturday, January 28th 2017 at 12:27PM
You can also
click here to view all posts by this author...