Its finally here, Tazadaq's new book over 200 page 8.5 x 11 work book with actually examples of documents that Tazadaq used for remedy.
This book will teach you How Tazadaq has properly succeeded with Accepted for Values, His Conditional Acceptance that got cases dismissed and that he won, how he effective dealt with the force closure issue and won, How he had his case dismissed while traveling without a license and so much more. This is a book unlike any of its kind, This because show you why Torah is mandatory if you truly want to be sovereign and understand this system of law. It also details if they people do not stand and fight tyranny that rights will be a thing of your past and your children will be slaves.
Tazadaq's teachings are clear about this: When it comes to getting your remedy in any situation where a claim is being made against you, your power lies in turning the claim upon the claimant. In arguing, defending, and/or ignoring no remedy is to be found.
Tazadaq Shah a Creditors, teaches this valuable lesson in this book. The way we bring resolution and remedy to the matter is by being in harmony with the claimant, by accepting their position but with our own conditions attached. And we do this by asking a question, by conditionally accepting. This is also known as a counteroffer. And this is very important, because a counteroffer has the legal effect of rejecting the offer.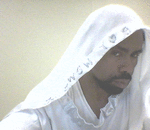 Posted By: Tazadaq Shaah
Tuesday, January 10th 2017 at 1:07PM
You can also
click here to view all posts by this author...