The Moorish Americans , Moors in Morocco and Masonic Shiners wear a red hat known as a Fez named after a town in Morocco, where in 980 AD, 50,000 Hebrew Israelites, Jews and Christians, including women and children, were brutally murdered by the Muslims. As the streets ran red with our people's blood' It was Black Moors that did this. Blood of Hebrew Israelites, Christians and Africans from the massacre, the Muslims Moors dipped their hats in that blood as a testimony to Allah. The red Fez symbolizes the slaughter of our people by Muslim Moors in that town. The Masons still wear the red Fez adorned with the Islamic crescent symbol. Many Moors practice Masonry in their mosque today ( standing on their square). Among the oaths of the , Masons, Moors and Masonic Shriners organization is one that says, "...and may Allah the God of Arab, Muslim, and Mohammedan, the God of our fathers support me to the entire fulfillment of the same. Amen, Amen, Amen." in Morocco the fez is a symbol of nationalism; it was worn historically as a protest against the French occupation. It is now associated with the Moroccan royal court. The King of Morocco, the royal guard, cabinet ministers, and the palace staff all wear fezzes and are the only Arab leaders to do so.
https://youtu.be/eiSZSyDkdxI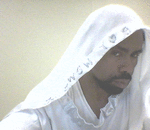 Posted By: Tazadaq Shaah
Wednesday, December 14th 2016 at 8:52AM
You can also
click here to view all posts by this author...