All of you black muslim wake up and come back to your nationality which is a Hebrew Israelites. Stop following religion, Israelites is nationhood, its blood line. Watch this. Islamic doctrine is dualistic, so there is an opposite view as well. Here is the last verse written about the People of the Book (A later verse abrogates or nullifies an earlier verse.). This is the final word. It calls for Muslims to make war on the People of the Book who do not believe in the religion of truth, Islam.
9:29 Make war on those who have received the Scriptures [Jews and Christians] but do not believe in Allah or in the Last Day. They do not forbid what Allah and His Messenger have forbidden. The Christians and Jews do not follow the religion of truth until they submit and pay the poll tax [jizya] and they are humiliated.
The sentence "They do not forbid…" means that they do not accept Sharia law; "until they submit" means to submit to Sharia law. Christians and Jews who do not accept Mohammed as the final prophet are Kafirs.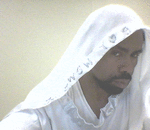 Posted By: Tazadaq Shaah
Tuesday, December 6th 2016 at 5:32PM
You can also
click here to view all posts by this author...