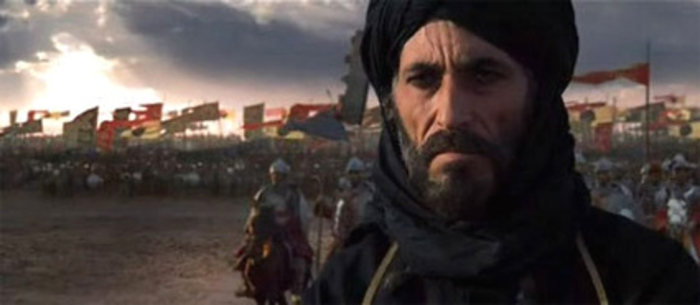 Following the Crusaders' defeat, the Muslims were able to recapture the area of Palestine, which had been under the Crusador control for 88 years. Salah Al-Din died in 1193 in Damascus as a poor man, having distributed much of his wealth to his subjects. He was buried in a mausoleum adjacent to Damascus's Umayyad Mosque.
http://jerusalem.com/articles/travel/salah_aldin_street_in_jerusalem-a6285
'Kingdom of Heaven'
...A true to life historical film rendition - "What is a Man/Woman who doesn't try to make the world better?"
/*
~Salah Al-Din~
Salah Al-Din Street, one of East Jerusalem's major shopping and commerce thoroughfares, is named for the first Sultan of Egypt and Syria. A Muslim of Kurdish origin, is known for his fight against the Crusaders, namely in the battle of Hattin.
Not long after the death of Nur ad-Din in 1174, Saladin personally led the conquest of Syria, peacefully entering Damascus at the request of its governor. By mid-1175, Saladin had conquered Hama and Homs, inviting the animosity of his former Zengid lords, who had been the official rulers of Syria. Soon after, he defeated the Zengid army in battle and was thereafter proclaimed the "Sultan of Egypt and Syria" by the Abbasid caliph al-Mustadi. He made further conquests in northern Syria and Jazira, escaping two attempts on his life by the Assassins, before returning to Egypt in 1177 to address issues there. By 1182, Saladin completed the conquest of Syria after capturing Aleppo, but ultimately failed to take over the Zengid stronghold of Mosul.
Sala ad-Din Yusuf ibn Ayyub (Arabic: Kurdish: or Selahedînê Eyûbî) (1137/1138 – March 1193), better known in the Western world as Saladin, was the first Sultan of Egypt and Syria and the founder of the Ayyubid dynasty. A Muslim of Kurdish origin, Saladin led the Muslim opposition to the European Crusaders in the Levant. At the height of his power, his sultanate included Egypt, Syria, Mesopotamia, Hejaz, Yemen and other parts of North Africa.
Under Saladin's personal leadership, the Ayyubid army defeated the Crusaders at the decisive Battle of Hattin in 1187, leading the way to the Muslims' re-capture of Palestine from the Crusaders who had conquered it 88 years earlier. Though the Crusader Kingdom of Jerusalem would continue to exist for an extended period, its defeat at Hattin marked a turning point in its conflict with the Muslim powers of the region.
On 29 September 1182, Saladin crossed the Jordan River to attack Beisan, which was found to be empty. The next day his forces sacked and burned the town and moved westwards. They intercepted Crusader reinforcements from Karak and Shaubak along the Nablus road and took a number of prisoners. Meanwhile, the main Crusader force under Guy of Lusignan moved from Sepphoris to al-Fula. Saladin sent out 500 skirmishers to harass their forces, and he himself marched to Ain Jalut. When the Crusader force—reckoned to be the largest the kingdom ever produced from its own resources, but still outmatched by the Muslims—advanced, the Ayyubids unexpectedly moved down the stream of Ain Jalut.
Crusader attacks provoked further responses by Saladin. Raynald of Châtillon, in particular, harassed Muslim trading and pilgrimage routes with a fleet on the Red Sea, a water route that Saladin needed to keep open. In response, Saladin built a fleet of 30 galleys to attack Beirut in 1182. Raynald threatened to attack the holy cities of Mecca and Medina. In retaliation, Saladin twice besieged Kerak, Raynald's fortress in Oultrejordain, in 1183 and 1184. Raynald responded by looting a caravan of pilgrims on the Hajj in 1185.
In July 1187 Saladin captured most of the Kingdom of Jerusalem. On July 4, 1187, at the Battle of Hattin, he faced the combined forces of Guy of Lusignan, King Consort of Jerusalem, and Raymond III of Tripoli. In this battle alone the Crusader force was largely annihilated by Saladin's determined army. It was a major disaster for the Crusaders and a turning point in the history of the Crusades. Saladin captured Raynald and was personally responsible for his execution in retaliation for his attacks against Muslim caravans. The members of these caravans had, in vain, besought his mercy by reciting the truce between the Muslims and the Crusaders, but Raynald ignored this and insulted the Islamic prophet, Muhammad, before murdering and torturing a number of them. Upon hearing this, Saladin swore an oath to personally execute Raynald. Guy of Lusignan was also captured. Seeing the execution of Raynald, he feared he would be next. However, his life was spared by Saladin, who said of Raynald, "It is not the wont of kings, to kill kings; but that man had transgressed all bounds, and therefore did I treat him thus."
Saladin had captured almost every Crusader city. Saladin preferred to take Jerusalem without bloodshed and offered generous terms, but those inside refused to leave their holy city, vowing to destroy it in a fight to the death rather than see it handed over peacefully. Jerusalem capitulated to his forces on Friday, 2 October 1187, after a siege.
Balian of Ibelin threatened to kill every Muslim hostage, estimated at 5,000, and to destroy Islam's holy shrines of the Dome of the Rock and the al-Aqsa Mosque if such quarter were not provided. Saladin consulted his council and the terms were accepted. The agreement was read out through the streets of Jerusalem so that everyone might within forty days provide for himself and pay to Saladin the agreed tribute for his freedom. An unusually low ransom for the times (around $50 today) was to be paid for each Frank in the city, whether man, woman, or child, but Saladin, against the wishes of his treasurers, allowed many families who could not afford the ransom to leave.
Most of the foot soldiers were sold into slavery. Upon the capture of Jerusalem, Saladin summoned the Jews and permitted them to resettle in the city. In particular, the residents of Ashkelon, a large Jewish settlement, responded to his request.
Tyre, on the coast of modern-day Lebanon, was the last major Crusader city that was not captured by Muslim forces.
Strategically, it would have made more sense for Saladin to capture Tyre before Jerusalem; Saladin, however, chose to pursue Jerusalem first because of the importance of the city to Islam.
In 1188, at Tortosa, Saladin released Guy of Lusignan and returned him to his wife, Queen Sibylla of Jerusalem. They went first to Tripoli, then to Antioch. In 1189, they sought to reclaim Tyre for their kingdom but were refused admission by Conrad, who did not recognize Guy as king. Guy then set about besieging Acre.
Saladin was on friendly terms with Queen Tamar of Georgia. Saladin's biographer Baha' ad-Din ibn Šaddad reports that, after Saladin's conquest of Jerusalem, the Georgian Queen sent envoys to the sultan to request the return of confiscated possessions of the Georgian monasteries in Jerusalem. Saladin's response is not recorded, but the queen's efforts seem to have been successful as Jacques de Vitry, the Bishop of Acre, reports the Georgians were, in contrast to the other Christian pilgrims, allowed a free passage into the city with their banners unfurled.
https://en.wikipedia.org/wiki/Saladin
http://jerusalem.com/articles/travel/salah_aldin_street_in_jerusalem-a6285
http://www.BoulwareEnterprises.com
Iimages of 'Salah Al-Din':
https://search.yahoo.com/search;_ylt=A0LEV0EXW4hWxzYAEoGl87UF;_ylc=X1MDOTU4MTA0NjkEX3IDMgRmcgNocC1kZGMtYmQEZ3ByaWQDY3lJUFZBbDNRamEwbDZ1V3Y2RnZQQQRuX3JzbHQDMARuX3N1Z2cDMTAEb3JpZ2luA3NlYXJjaC55YWhvby5jb20EcG9zAzAEcHFzdHIDBHBxc3RybAMEcXN0cmwDMTgEcXVlcnkDaW1hZ2UgU2FsYWggQWwtRGluBHRfc3RtcAMxNDUxNzc2ODI3?p=image+Salah+Al-Din&fr=hp-ddc-bd&fr2=sb-top-search&type=bg_840_bl-is-17__alt__ddc_dsssyc_bd_com&iscqry=
*/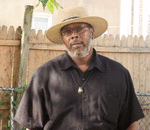 Posted By: Gregory Boulware, Esq.
Saturday, January 2nd 2016 at 6:39PM
You can also
click here to view all posts by this author...