Kathy Alizadeh's presentation to the Grand Jury about an outdated over ruled law to confuse jurors is a prosecutor acting in the defense of a defendant name Darren Wilson. Was this her way of suggesting to other police that its lawful to kill a so-called black person even if the supreme court the law of the land has rendered it unconstitutional. Is this her way of suggesting that the so-called negro deserved? When will our people realize that it was necessary to hand pick some sambo coons to suggest that Wilson was in the right to prevent the masses from seeing the racial aspect behind this one of many cases where police have murdered so-called blacks and became famous and rewarded by talk shows and the like.
We are at war. We are in the trenches of America's hate for us the true indigenous Americans. The march for peace can obviously not be obtained without a civil war it appears. We must arm ourselves and defend our lives or continually to be murdered unjustly? It does not matter if these gangs were badges and blue uniforms or red, gold etc we must defend ourselves from these animals that continue to murder us and are rendered not guilty. We must defend ourselves against any enemy foreign or domestic that unjustly attempt to deprive us of life and liberty. When someone take away your liberty, or the lives of your love ones you do not go to the enemy asking for justice you stand and fight for your liberty and justice will come only after you are willing to die in defense of justice. Its clear now it is just us, u-n-i-verse our oppressors. It is time that we unite and stop dividing over petty differences. We have one commonness, we are detested because of the color of our skin and that our rise means their demise. Qam yahsharahla
INDITE KATHY ALIZADEY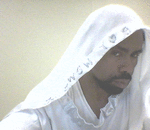 Posted By: Tazadaq Shaah
Saturday, November 29th 2014 at 5:12PM
You can also
click here to view all posts by this author...