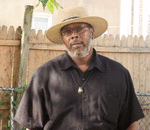 /*
Has Your Americanism Been Called To Bear? Do You Know What An American Is?
Are You An American?

'An American is English, or French, or Italian, Irish, German, Spanish, Polish, Russian or Greek. An American may also be Canadian, Mexican, African, Indian, Chinese, Japanese, Korean, Australian, Iranian, Asian, Arab, Pakistani or Afghan.'

An American may also be a Comanche, Cherokee, Osage, Blackfoot, Navaho, Apache, Seminole or one of the many other tribes known as Native (Indian) Americans…

An American is Christian, or he could be Jewish, or Buddhist, Hindu, or Muslim. In fact, there are more Muslims in America than in Afghanistan . The only difference is that in America they are free to worship as each of them chooses...
http://byanaustraliandentist.blogspot.com/
*/


Monday, October 22nd 2012 at 9:14PM
Gregory Boulware, Esq.