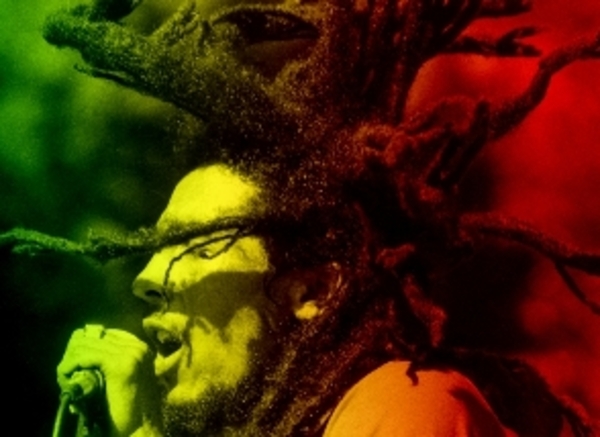 (Originally posted in
Inspirational People
at AfroDaddy.com)
Who They Are:
Musician, Revolutionary
Born:
February 1945 – 11 May 1981
Bob Marley (born Nesta Robert Marley) is arguably one of the most influential and popular musicians in history. Having produced multiple number one hits and albums, Bob Marley has achieved some of the highest accolades ever for a recording artist; from being named Rolling Stone's band of the year in 1976 to his 1994 induction into the Rock and Roll Hall of Fame. In addition to these awards Marley was awarded the Jamaican Order of Merit in 1981, had Exodus named as Album of the Century by Time Magazine in 1999, and in 2004 was ranked the No. 11 greatest artist of all time by Rolling Stone. His compilation album Legend is the best-selling reggae record of all time and is ten times platinum. The BBC has acknowledged Marley as one of the greatest lyricists of all time and named "One Love" the song of the millennium.
To cite his recording accomplishments as the measure of the man does a great disservice to the genius and inspiration that is Bob Marley. He was so much more: a revolutionary, a mystic, a healer, a leader, and the voice of a generation. Bob Marley introduced the world to reggae music and to date no one has made the music sound sweeter.
Bob Marley was born in the village of Nine Mile in Saint Ann Parish, to a white Jamaican father (Norval Sinclair Marley) and an Afro-Jamaican mother (Cedella Booker). His father passed when Marley was 10 years old and although Marley faced questions about his racial identity all his life he clearly identified with his African heritage and Afro-Jamaican upbringing. He followed the revolutionary ideals of past leaders like Marcus Garvey and Haile Selassie. He was a large fan and supporter of current revolutionary cultural icons like Muhammad Ali, Che Guevera, the Black Panthers, and James Brown.
Much of Bob Marley's music and life was influenced by his belief and the following of the Rastafarian movement. The Rastafarian movement gained prominence in the 1930s in Jamaica and was based on a rejection of western society (called Babylon) and the proclamation that Africa ("called "Zion") is the original birthplace of man. The politics of Rastafari (many call it a movement and not a religion) call for a black nationalism that was embraced by the Jamaican-born Marcus Garvey and preached to both Jamaicans and African Americans of the period. As a Rasta, Bob Marley smoked cannibus and was a vegetarian, both of which are tenets of the Rastafari movement. He also wrote many of his songs in support of the politics of the Rasta Movement and spoke to the oppressed in Jamaica, Africa and the US through his lyrics.
As the popularity of Bob Marley (and the Wailers) grew Marley was the feature performer at many highly charged political concerts and events throughout the world and was a major influence in sparking dialog between warring Jamaican political parties as well as speaking out on apartheid in South Africa.
In 1977 Bob Marley suffered a fairly minor foot injury while playing soccer, but it was found that he had a malignant melanoma. In 1981 Bob Marley died from this cancer that spread from his foot through his body and to his lungs and brain. Passing away at the height of his popularity and influence Bob Marley is an inspirational person who certainly deserved more years on earth to spread his message to the world.
Why They Inspire:
Bob Marley fought for equality and fought against oppression. He told people to stand up for their rights and what they believe in. He did not believe in violence but he did advocate for freedom and justice. Through the beauty and honesty of his lyrics he moved both politicians and the masses. He continues to inspire as much today as he did 40 years ago.
Bob Marley introduced the world to reggae. Before Bob Marley no other major record label had ever let an artist record a reggae album. Catch A Fire was just one of the dozen albums and hundreds of songs that sparked worldwide interest, acceptance and adoration of reggae music. Bob Marley has influenced a whole generation of musicians that followed him, with none being able to capture the unique sound and talent of Bob Marley. As is the definition of a true superstar, Bob Marley is often imitated but never duplicated.
Bob Marley was a man of the people. Being born to a white father and an African mother Bob decided which ethnicity he would embrace as his own. Identifying with and supporting Africans and Jamaicans Marley clearly made a life choice and committed to supporting the struggle of "his people" all his life. What made him so special was that although he fought against oppression of one group he was clearly for the equality of ALL peoples.
"My father was a white and my mother was black. Them call me half-caste or whatever. Me don't dip on nobody's side. Me don't dip on the black man's side nor the white man's side. Me dip on God's side, the one who create me and cause me to come from black and white."– Bob Marley quote cited in The Birmingham Post
It was this embracing of "one love" that has made Bob Marley a beloved figure to people of all colors and creeds around the world.
Bob Marley lived his life on his own terms. Marley's embracing of the Rastafarian lifestyle also was clearly his choice and he embraced it with as much conviction as his African heritage. He did not care if it was "cool" to be a rasta. Bob Marley was a rasta. Being a rasta became cool because of Bob Marley.
To read the rest of this post visit "Inspirational People
Posted By:
Monday, July 11th 2011 at 4:48PM
You can also
click here to view all posts by this author...