The world of art is welcoming Kendramia Prestage, a native of Atlanta, Ga, and junior business management information systems major at Prairie View A&M University.
Kendra's passion for art is expressed succinctly through sketches and paintings. She embraces political awareness and education in most of her works.
The works of Monet is credited as inspiration for Prestage in her early attempt at art. In recent times her interest has expanded by the craft of Jacob Lawrence and Henry Ossawa Tanner, both prestigious African-American painters. Kendra makes no excuses in her sketches and paintings that addresses topics considered untouchables or taboo. Her concerns are manifested through her presentation of affects on children, domestic abuse, and prostitution.
Like most artisans, Prestage began drawing in elementary school. "That is all I have ever wanted to do," said Prestage. "When I was younger I preferred crayons and paint over Barbies." She has now moved up to charcoal, water colors and acrylic.
Her drawings are inspired by children who are affected by society's ways and whose innocence is often threatened. Kendra developed this deep concern by working children in several summer programs where she had the chance to observe and assist them in their dreams and goals.
In summer 2009, Kendra got the experience of her lifetime when she was selected and participated in the educational exchange trip to Ghana, West Africa. While there Kendra observed a little girl that she captured in a picture because "her eyes exposed the problems in her country, and her hair cut was a cultural symbolism of showing her youth." "In Ghana, I learned that there are many issues of men raping children, or unable to distinguish their age. I wanted to bring that emotion and history through the picture," Kendra stated. Kendra has since replicated the photo to canvass which was part of the 2010 Women's History Art Exhibit at Prairie View A&M University.
In addition to her school work and painting, Kendra recently tried her hand at movie-making and assisted in creating the visual presentation for the Students In Free Enterprise (SIFE) Regional Competition. She also finds time to participate in other activities and organizations including SIFE, Gamma Sigma Sigma Service Sorority, Frederick Douglass Leadership Institute and the Career Services Apprentice program. Her volunteerism extends to her involvement with the Campus Activities Board, Panther Advisory Leaders and the University's Cheerleader Squad.
Her future plans include teaching art which exposes children and teenagers to a way of expression and endless possibilities and converting some of her art to a line of cards. She also plans to open a restaurant and art gallery to showcase her work and that of rising artists. "While people are eating, I want them to recognize that every dish correlates with an art piece," she concluded with a chuckle.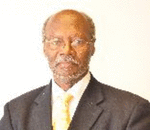 Posted By: Frederick Roberts
Saturday, May 1st 2010 at 3:02AM
You can also
click here to view all posts by this author...