Californiablackhistory.com has a list of more than two dozen sites and communities which reflect the African-American heritage of San Francisco.
However, there are a number of other places around the state which can be part of black heritage tourism.
We normally don't think of the Western states when it comes to black history.
Start with LAX, the Los Angeles Airport, where the signature structure was built by black architect Paul Williams, one of 3,000 buildings he designed in southern California ranging from Second Baptist Church to Saks Fifth Avenue.
In Sacramento, the state historic landmark near the Capitol for the first black church in the state, St. Andrews A.M.E. is near the current site of the congregation. St. Andrews was launched in 1850.
In the Sierra, Beckwourth Pass and Peak are testaments to the role of explorer James Beckwourth.
In the Imperial Valley, the homes and ranches of black farmers who settled the area can still be found. Some of the six all-black town in California in 1920 were in thise region.
The National Park Service has produced a new brochure, the Buffalo Soldiers and California's National Parks, which describes the role of the 9th Cavalry, under Capt. Charles Young, in protecting the earliest national parks.
In the heart of San Francisco, the buildings that housed the first jazz clubs in the world still stand. At the Visitor Information Center in Hallidie Plaza, one can see those sites in my exhibit JazzGenesis: San Francisco and the Birth of Jazz.
For more information, call us at 415-240-3537.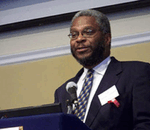 Posted By: John Templeton
Saturday, February 14th 2009 at 12:44PM
You can also
click here to view all posts by this author...