WASHINGTON — President-elect Barack Obama was unique among African-Americans with the ability to trace both sides of his family tree.
However, a new law may increase dramatically the access to that information.
As part of a Senate bill to insure that all presidential records are preserved, a House bill introduced by the late Rep. Tom Lantos, D-CA, requires the National Archives to supplement its Freedman's Bureau archives with a comprehensive database of all federal and state records relating to slavery, emancipation and Civil War reconstruction.
It also provides for grants to states and localities to establish local databases as well.
The legislation is also a testament to the late Dr. Walter Hill, who created a finding guide on National Archives resources on African-Americans.
Before his death, Lantos said on the House floor in 2007, "The federal and local records covered by this legislation are not only of personal importance to the families involved. They are also historically significant to us all. They document the reuniting of our nation and the historic moment of transition for slaves from the status of property to citizens, a time when our country finally began to right a horrible moral wrong. We need to take the process another step now, by ensuring that those records and the lessons they hold are preserved for all eternity."
He added, "Unfortunately, African Americans face a unique challenge due to our nation's history of discrimination and slavery. Instead of simply looking up wills, birth and death certificates, or other traditional genealogical research documents, African Americans are forced to identify the names of former slave owners, and then hope that these owners kept accurate records of pertinent property, tax, and probate information."
Such databases are critical for improving educational outcomes for African-American children, who are often hampered at the beginning of their educational experience because early social science frameworks begin with exploring family histories.
It can also impact the ability of communities to seek historic preservation protections for significant African-American historic figures and sites.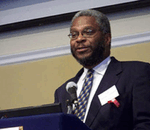 Posted By: John Templeton
Wednesday, February 11th 2009 at 10:13AM
You can also
click here to view all posts by this author...