While visiting Marcus Book Store Wednesday, the nation's oldest black book store, I experienced as much history among the people as I might have by picking up some books.
The experience speaks to the way Carter G. Woodson would have us observe Black History Month.
It's a lot more than a hastily-pulled together mimeographed piece on one of what I call "The Big Three" of black history–Martin Luther King Jr., Harriet Tubman and Sojourner Truth.
Woodson's focus was on encouraging research and publishing of the immense volume of untold heritage among the African-American community.
This approach is commonly found in schools, where the power of black history is completely wasted. In my study last year, Black Heritage as Gap Closer, I found that fewer than 10 percent of California social studies teachers knew the components of culturally-responsive teaching methods, the genre which emerged from the work of Woodson and the subsequent Black Studies movement.
Even the election of the first black president loses its ability to transform student achievement if not used in a research-driven fashion.
While at Marcus, I met Claire Mack, mayor of San Mateo, and Rena Bancroft, a retired educator whose husband Burl Toler was an educator and the first NFL referee, after being part of a national championship football team that broke barriers in 1951.
Ms. Mack discussed her ancestors who had moved to San Francisco before 1900, living in neighborhoods as diverse as the Marina.
That's what my research for a context statement on the history of blacks in San Francisco is finding. The suppositions about African-Americans as a marginal part of the city's history are falling beneath a wave of primary sources.
On Sunday, I'm giving a lecture at the Koret Auditorium of the San Francisco Public Library on Lincoln and San Francisco.
Rather than just blandly noting his bicentennial, we've examined how President Lincoln engaged and interacted with this particular city. It is a step that anyone could take.
The right way to observe Black History Month is not to spend a lot of money going to a hotel and having a breakfast, lunch or dinner, but to sit down with family members, record their remembrances, secure their family memorabilia, hold genealogical discussions, videotape oral history, write a landmark application for an historic site and visit a bookstore like Marcus — or even better take some young people to a bookstore like Marcus.
Karen Johnson, daughter of the founders the late Julian Richardson and Dr. Raye Richardson, gave me another anecdote.
She mentioned when her father took her and her siblings to an overpass to protest the building of U.S. 101 through the Bayview/Hunters Point neighborhood.
"Rich" had them prepared to spit as then-President Eisenhower drove underneath on the way to dedicating the highway.
Sure enough, the motorcade came through and dutifully, they let fly.
"He had a bubbletop car, though," she recalled.
Black history is way too interesting, and gives too much texture to American life to treat it in a desultory way.
Most of the history has not been written yet, so there's no time for lofty speeches and chowing down.
Get out your audio recorders and head to the archives.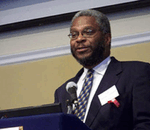 Posted By: John Templeton
Wednesday, February 11th 2009 at 10:03AM
You can also
click here to view all posts by this author...