January 2013 - The Second Half!
Happy New Year! I hope that this finds you having enjoyed an amazing Holiday Season with family and friends. Moreover, I hope that you are well and rested and ready for the second half of your senior year!
The second half of anything always allows you another opportunity to move forward with your game plan or perhaps even change your course of action. So I ask, "What is your game plan?" "What is your plan of action?" "What have you mapped out for yourself for the next several months?" My hope is that a visit to FSU is a part of your plan of! If you have not visited the campus, it is a must as you narrow down your college choices.
Here in the office of admission, our second half consists of creating fun and engaging opportunities to reach out to you! (Hence, my Happy New Year Blog to you!) For example, our Spring Call Campaign is on the near horizon. We think that it is a wonderful way for you to speak directly to students and faculty. Also, our plans are already underway for our Spring Open House scheduled for March 23, 2013. (Be on the look-out for additional information in the coming weeks!) You will have a chance to see FSU faculty and staff up close and personal. In addition, you can find out for yourself what makes us so special. You may even be able to put a face to a voice! :)
In the second half, we are also steadily sending out merit scholarships to students who are academically eligible! So, please make sure that we have your most up-to-date test scores and mid-year grades!
Lastly, and the most important thing that the office of admission is gearing up for is to officially welcome you to the Bronco Family! We hope that as you move through the semester you decide that FSU is the place where you want to start the next phase of your academic journey!
As always, feel free to contact us at 910.672.1376 or admissons@uncfsu.edu with your questions. We are happy to help. Enjoy your second half!
With every good wish, I am
Ulisa E. Bowles
Director of Admission
Fayetteville State University
--------------------------------------------------------------------------------
Visit FSU online:
http://hbcuconnect.com/colleges/30/fayetteville-state-university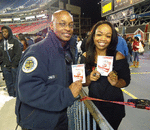 Posted By: Elynor Moss
Thursday, January 31st 2013 at 12:42PM
You can also
click here to view all posts by this author...