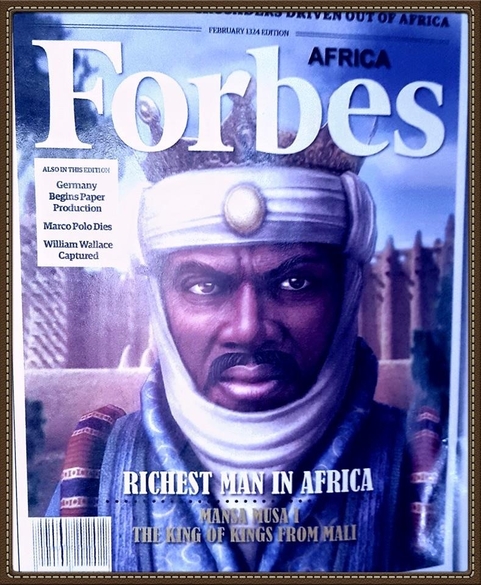 • Billionaires Jeff Bezos, Bill Gates, and Warren Buffett are currently the three richest men in the world, according to Bloomberg's Billionaires Index.
• But 14th century African emperor Musa Keita is widely considered richest person in history.
• It's impossible to say whether or not Mansa Musa's wealth was exaggerated by his contemporaries.
• But it certainly had a tremendous impact on global perceptions of Mali — and the economy of Egypt.
Amazon CEO Jeff Bezos is the wealthiest man in the world, with a net worth of $118 billion. According to Bloomberg's Billionaires Index, his fellow billionaires Bill Gates and Warren Buffet rank just behind him.
But he's still far from African emperor Musa I of Mali, who is thought to be the richest person of all time — "richer than anyone could describe," reported Time.
Literally. His fortune was incomprehensible, Time's Jacob Davidson writes: "There's really no way to put an accurate number on his wealth." Plus, since accounts of his wealth stem from centuries-old testimony, it's possible that some stories about the "mansa" — Mandinka for "sultan" or "emperor" — were exaggerated.
We do know for a fact that Mansa Musa ruled the Mali Empire in the 14th century and his land was laden with lucrative natural resources, most notably gold. He was also a successful military leader, having captured 24 cities, according to David C. Conrad's "Empires of Medieval West Africa: Ghana, Mali, and Songhay." But it was his Islamic faith that prompted him to make his pilgrimage to Mecca in 1324, thus exposing his extraordinary riches to the outside world.
Here's everything we know about this legendary king:
Musa Keita I came into power in 1312. At the time, much of Europe was struggling and and facing declining gold and silver production, while many African kingdoms were thriving.
While in power, Mansa Musa expanded the borders of his empire tremendously. He annexed the city of Timbuktu and reestablished power over Gao. All in all, his empire stretched about 2,000 miles.
Mansa Musa was in charge of a lot of land. To put it into perspective, he ruled all (or parts) of modern day Mauritania, Senegal, Gambia, Guinea, Burkina Faso, Mali, Niger, Nigeria, and Chad.
Continued: while-in-power-mansa-musa-expanded-the-borders-of-his-empire-tremendously-he-annexed-the-city-of-timbuktu-and-reestablished-power-over-gao-all-in-all-his-empire-stretched-about-2000-miles-2
Posted By: Elly Moss
Wednesday, October 3rd 2018 at 10:48AM
You can also
click here to view all posts by this author...