Think and Grow Rich A Black Choice is a Blueprint for Success that was written specifically for Black Americans.However, the principles can be used by all! The ideas and information in this book will change your belief system. It is a book filled with real life, positive examples of high achievers. Packed with emotion, you will see your reflection in many of the stories told. Sista' Joy gives us a preview of the introduction and invites us to purchase the book (link below) and return next week for the review of Chapter 1. This book was written by Napoleon Hill and Dr. Dennis Kimbro with the hope of giving you another way of looking at the world.
The opening music was written and performed by George Belle, Musician and Recording Engineer.
As an Affiliate for Amazon, I will receive a small commission for every purchased book made through this link. All monies will continue to be used to support this channel....Thank You
https://www.amazon.com/Think-Grow-Rich-Black-Choice/dp/0449219984/ref=as_sl_pc_tf_til?tag=sistajoy1312-20&linkCode=w00&linkId=cb2551b291fcf8c015834012e5745a3f&creativeASIN=0449219984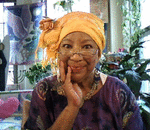 Posted By: Joy Foster
Wednesday, August 22nd 2018 at 11:40PM
You can also
click here to view all posts by this author...