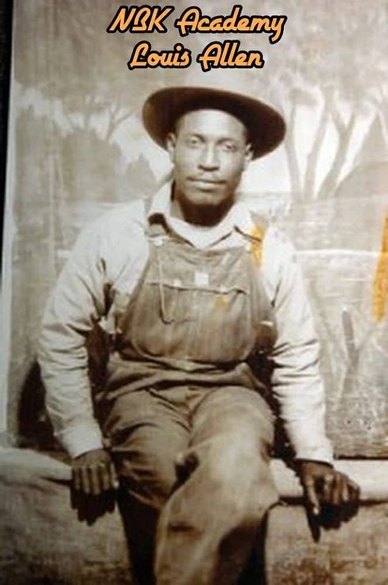 Louis Allen (April 25, 1919 – January 31, 1964) was an African-American citizen and married businessman with a family in Liberty, Mississippi. He was shot and killed on his land during the civil rights era. He tried to register to vote. In addition, he was suspected of talking to federal officials after witnessing the 1961 murder of Herbert Lee by a white state legislator.
Allen was among a dozen witnesses of the daylight murder in September 1961 of Herbert Lee, an NAACP member, by E.H. Hurst, a white state legislator. Civil rights activists had come to Liberty that summer to organize for voter registration; essentially no black had been allowed to vote since 1890, when the state disfranchising constitution was passed.
Later Allen was repeatedly harassed by the county sheriff and jailed more than once. He was fatally shot on his own property the day before he planned to move out of state. Since the late 20th century, his case has been investigated by a history professor at Tulane University, by the FBI beginning in 2007 as part of its review of civil rights-era cold cases, and in 2011 by CBS 60 Minutes. Their work suggests that Allen was killed by Daniel Jones, then the county sheriff. No one has been prosecuted for the murder.
Sign Up: (FREE!)
NBK HISTORY BROTHERS Website
http://newblackknowledge1.connectplatform.com
Subscribe:
NEW BLACK KNOWLEDGE YouTube
www.youtube.com/c/NewBlackKnowledge
Instagram:
www.instagram.com/nbklyrad
Twitter:
www.twitter.com/nbklyrad
Facebook:
Join NBK SOCIAL GROUP
https://www.facebook.com/groups/NBKSocialGroup/
NBK ACADEMY BLACK HISTORY PAGE
https://www.facebook.com/NBKAcademy1/
Posted By: NEW BLACK KNOWLEDGE
Monday, April 16th 2018 at 10:25AM
You can also
click here to view all posts by this author...