Those days of risky behavior hopefully ended the moment
a couple decided to be in a monogamous union!
A fiancé is not a bachelorette or bachelor.
He or she is in preparations to build a happy, mission driven
family.
The tug and pull of trying to entertain friends at the fiancée's
expense can lead to many foolish regrets.
Not to mention a waste of money.
The only person from the opposite s*x us non bachelorette/
bachelor parties people want to think about is the one who makes
us happy. Our Groom or Bride!
Someone is bound to get their feelings hurt or feel insecure
at the thought of what goes down at this type of party.
I use to want a joint party including the bride and groom.
That way we experience the same things and can reminisce
together.
Now realizing the value of privacy and demure class, showing
my wild cards is not in my best interest.
Even when there is no freaky fun, the effort required to ensure
invitees are enjoying themselves and not feeling left out is not
worth it!
To stay focused on an uninterrupted union of Love is a job.
The less distractions the better!!!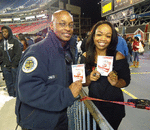 Posted By: Elynor Moss
Sunday, March 11th 2018 at 11:36PM
You can also
click here to view all posts by this author...