Home > Blogs > Post Content


By RYAN LOVELACE (@LOVELACERYAND) • 3/25/17 11:28 AM

Rev. Al Sharpton is not happy with what he perceives as the White House's special treatment of President Trump's daughter.

At an event Saturday morning, Sharpton echoed several ethics experts in complaining about Ivanka Trump's new informal role at the White House, which reportedly will include a security clearance and an office in the West Wing.

"Giving a office on the West Wing of Ivanka Trump, somebody explain to me how you can give security clearance, access to classified material, and a office to somebody that don't have a title or job?" Sharpton said. "They say now she ain't got no title. She ain't got no role. We ain't payin' her no money. But she can see everything classified."

He added, "If President Barack Obama had given his daughters or his mother-in-law an office and some access to classified documents and cleared security status, they would have run him and everybody else out [of] the White House."

Sharpton also complained about the Trump team's potential ties to Russia.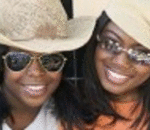 Posted By: Siebra Muhammad
Sunday, April 2nd 2017 at 8:30AM
You can also
click here to view all posts by this author...
I think it was because of this flap they made her an official employee.
Sunday, April 2nd 2017 at 8:44AM
Steve Williams
It is right here in the report:

Sharpton complained about the Trump team's potential ties to Russia.
Sunday, April 2nd 2017 at 9:33AM
Deacon Ron Gray
What are you talking about Ron, Ivanka or Russia?
Sunday, April 2nd 2017 at 11:00AM
Steve Williams
"Giving a office on the West Wing of Ivanka Trump, somebody explain to me how you can give security clearance, access to classified material, and a office to somebody that don't have a title or job?" Sharpton said. "They say now she ain't got no title. She ain't got no role. We ain't payin' her no money. But she can see everything classified."

WHY?

Sunday, April 2nd 2017 at 11:07AM
Deacon Ron Gray
She does have a title and a job as a federal employee. This report is from a week ago and now it's a week later. Didn't MSNBC give you the update?
Sunday, April 2nd 2017 at 11:26AM
Steve Williams
The federal ethics regulations formally prohibit federal employees from being involved in any "particular matter that will have a direct effect on a financial interest, if there is a close causal link between any decision or action to be taken in the matter and any expected effect of the matter on the financial interest."
Sunday, April 2nd 2017 at 11:36AM
Steve Williams
Why are there federal ethics regulations?
Sunday, April 2nd 2017 at 3:03PM
Steve Williams
Because we are a nation of LAWS, which makes this nation stronger to protect her people from the pass injustice and we must return back to those days, ever.




Sunday, April 2nd 2017 at 9:47PM
Deacon Ron Gray
And Ivanka is a federal employee who is subject to those laws, just like every federal employee. Is there a problem still? I don't get it.
Monday, April 3rd 2017 at 2:25AM
Steve Williams
What problem is that STEVEN?


Monday, April 3rd 2017 at 4:35AM
Deacon Ron Gray
I heard the announcement on MSNBC last week and wondered was it acceptable for a U.S. President to choose a blood relative of his as a First Lady. Then again, President James Buchanan's niece was First Lady in the mid-1800s. James Buchanan was never married.

I imagine if a president's wife was deceased, disabled, or in poor health, or if the youngest child (Barron) suffers from autism it would be much more accepted if they told the truth for once.

My take is that Melania simply does not want to be there. There have been allegations of Melania being unhappy in her marriage, yet she chooses to remain married because of the benefits of being a wealthy man's wife.

Also, Trump doesn't want to be alone with none of his children there. His children (the three eldest) are the only people he trust. He also likes Jared (Ivanka's husband) too for some reason. I do sometimes wonder how Donald Jr. and the other one feel about this. Gotta be a little sibling rivalry in that family.
Monday, April 3rd 2017 at 8:47AM
Siebra Muhammad
What I'm asking Ron is do you have a problem with Ivanka as a federal employee?
Monday, April 3rd 2017 at 9:25AM
Steve Williams
Siebra, I think Ivanka is the President's closest confidant. Donald Jr. and Eric seem to be satisfied with their role managing the Trump business.
Monday, April 3rd 2017 at 9:27AM
Steve Williams
"If President Barack Obama had given his daughters or his mother-in-law an office and some access to classified documents and cleared security status, they would have run him and everybody else out of the White House.".




Monday, April 3rd 2017 at 1:28PM
Deacon Ron Gray
RON! I'm talking about now that she DO GOT a title and job.
Monday, April 3rd 2017 at 1:46PM
Steve Williams
"From what I can see, she ain't got no title. She ain't got no role. We, The American people ain't payin' her no money. But she can see everything classified." What she their for STEVEN.


Monday, April 3rd 2017 at 2:38PM
Deacon Ron Gray
Let me ask you Ron, did Michelle assist the president?
Monday, April 3rd 2017 at 2:57PM
Steve Williams
What's the difference between assisting the president as first lady or assisting the president as first daughter?
Monday, April 3rd 2017 at 3:00PM
Steve Williams
Steven, recall REV. AL SHARPTON'S DISAGREES WITH IVANKA coming out on March 25 2017. Now you are reporting this report on March 29, 2017,some four days later. This switch was to stop the ethic laws and the concerns that REV. AL SHARPTON brought to light some 4 days earlier.

What a move by IVANKA!!!!


Monday, April 3rd 2017 at 3:10PM
Deacon Ron Gray
Ivanka being chosen as a first lady by her own father doesn't surprise me, it's simply how she has worked with her father for years, as a senior official at the Trump Organization and as Donald Trump's partner on "The Apprentice."

The role of First Lady is an informal role and usually involves ceremonial duties. However, women who serve as First Ladies who are blood relatives of presidents have to be approved by a management team.

In President Buchanan's case, his niece was approved by the American capital. So far Ivanka was not elected, not voted for and not approved by anyone other than her father, so why is she THERE? Why does she have an office, why is she using electricity, servers and services that tax money is paying for- especially since we know she will be conducting her personal business and the business of her husband from the white house. How is this possible.

Ivanka is doing more than Melania, Melania hasn't even set up her office and Melania's technically the First Lady. People were throwing a fit when Michelle Obama's mother was moving into the White House with the Obamas, like they never saw a grandparent watching over the children so the mom and dad can do their duties. Why would the Obama girls have to be raised by nannies if their grandmother was there to provide love and care?

Monday, April 3rd 2017 at 4:29PM
Siebra Muhammad
Well thank you Ron, for finally acknowledging what I said in the very first comment on this blog.
Monday, April 3rd 2017 at 4:55PM
Steve Williams
What it is Ron is what I've always said. You don't like the Trumps because of their business success. You assume that Ivanka WILL violate the ethics rules. You want the President to exile his children to a remote South Seas island, or Antarctica or something. But probably not Russia.
Monday, April 3rd 2017 at 5:01PM
Steve Williams
STEVEN, if I was to start in on Trump, I will be taking this blog off topic.

Sister Muhammad, I like to know the answer to this question too: "So far Ivanka was not elected, not voted for and not approved by anyone other than her father, so why is she THERE?"

Maybe STEVEN knows....






Monday, April 3rd 2017 at 6:13PM
Deacon Ron Gray
What a liar you are Ron. You took it off topic with your very first comment when you threw in Russia.
Monday, April 3rd 2017 at 7:24PM
Steve Williams
Blogs Home