NORTH CAROLINA--Community leaders and customers of a west Charlotte beauty supply store showed up to the store Sunday, calling for a boycott after cell phone video showed the owner - an Asian man - kicking and choking an African American woman.
Sung Ho Lim is the owner of Missha Beauty. He said this all started when the woman in the video, who has not been identified, was caught stealing.
In the video, you can hear the woman tell Lim, "Check my bag. I don't have anything."
You then see the two shove each other, at which point Lim said, "You hit me."
Moments later, Lim kicks the woman, knocks her to the ground and puts her in a choke hold. WBTV showed Lim the video, and he confirmed it is him, but he also said the part when she stole an item is not captured by this video.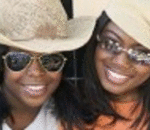 Posted By: Siebra Muhammad
Thursday, March 16th 2017 at 2:36PM
You can also
click here to view all posts by this author...