"Was Jesus A Man Of Color?"
The Book of Revelation:
His head and his hairs were white like wool, as white as snow, and his eyes were as a flame of fire.
Chp. 1 Ver. 14
Bethlehem in Judea:
...After the days - he was brought to Jerusalem, on the 40th day he was presented to the temple before the Lord - Every male which opens the womb shall be called Holy unto God.
Three Wisemen brought gifts and received his swaddling clothes as gifts in return.
Jesus spoke from the cradle - he spoke to Mary in the cave of his birth - Jerusalem, the tongue of the Angel and Man united with the birth - he was circumsized in the cave - The Old Hebrew Woman bore witness...
They escaped into Egypt - The Crossroads of Satan.
Mortal parents and child - They all escaped into Egypt...
http://www.amazon.com/s?ie=UTF8&keywords=Gregory%20V.%20Boulware&rh=n%3A283155%2Ck%3AGregory%20V.%20Boulware&page=1
"Twitter"
https://twitter.com/#!/AuthorBoulwareG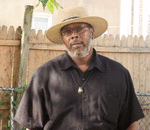 Posted By: Gregory Boulware, Esq.
Sunday, April 15th 2012 at 11:22AM
You can also
click here to view all posts by this author...