TALKING POITNS MEMO, April 12, 2012 -- The last time Michelle Obama stopped by The Colbert Report, she was potentially the next First Lady of the United States. Four years later, she is the first lady. "That's called the Colbert bump," Stephen Colbert told First Lady Michelle Obama on Wednesday.
Obama and Colbert talked about the first lady's "Joining Forces" initiative, a campaign to honor America's troops, veterans and their families. The initiative celebrated its first anniversary this week. Sounds great and all, Colbert said, but what about the .gov suffix on the program's website? "It makes it sound like big government."
Still, one of the perks of hiring veterans in the private sector, Colbert said, is that the stories veterans tell will really make the office "complaining sound trivial."
"It's hard to be a whiner around a veteran," Obama agreed.
Time for the hard-hitting questions: As someone who has appeared on both The Colbert Report and iCarly, "which one of us do you think has more gravitas as a broadcaster?" Colbert asked.
"That's a tough one," Obama said. Moving on…
Why take on the issues of childhood obesity and helping military families, Colbert asked Obama. First ladies can choose their own agendas. Obama responded that on the campaign trail, she met military families and was "awed" by their sacrifice. "They do it with grace, they do it without complaint," she said.
And Michelle Obama has enjoyed significant popularity as the country's first lady. "Do you ever lord over the president the fact that you're more popular than he is?" Colbert asked. "Like, 'Hey, watch it, or I might not campaign for you.'"
"He's my man," Obama said, giving the president her full-fledged endorsement.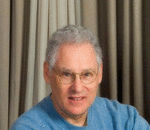 Posted By: Richard Kigel
Thursday, April 12th 2012 at 10:46PM
You can also
click here to view all posts by this author...