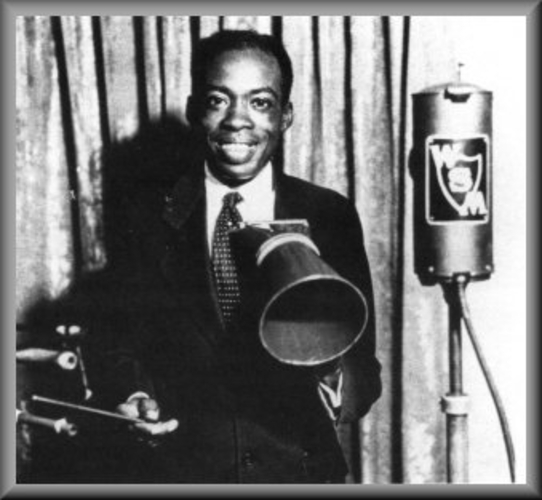 The Grand Ole Opry's First Star was none other than the legendary "Harmonica Wizard," DeFord Bailey-- an African American born and raised 40 miles east of Nashville.
Born in 1899 in rural Smith County, Tn., DeFord Bailey was the grandson of a freed slave who had fought for the Union Army during the Civil War. After his mother died when he was only a year old, his father's sister Barbara Lou and her husband effectively became his foster parents, caring for him throughout the rest of his childhood. Bailey learned the traditional tunes of what he would later call "Black Hillbilly Music" from his grandfather, aunt and other family members. He learned to play the harmonica while still a baby, and it remained his favorite instrument, but he was a multi-talented musician, able to play banjo, guitar, mandolin and even a bit of violin.
In 1925 WSM Radio Nashville began the Saturday Night Show of Authentic Folk and Country Music that would become the Barn Dance. The harmonica master joined the Opry when it was still known as the WSM Barn Dance. It was renamed the Grand Ole Opry by popular Radio Announcer George D. Hay in 1927. Bailey carried the shows during the early years, offering a balance to other performers such as Uncle Dave Macon and the McGee Brothers. He had the soul of a Jazz Artist; often improvising on the spot-- each performance was different and equally special. After a typically great performance of his classic train song, "The Pan American Blues," Hay mouthed the phrase that would become music history. "For the past hour we have been listening to music largely from Grand Opera, but from now on we will present The Grand Ole Opry." The legendary Grand Ole Opry and DeFord Bailey, its first star, were born.
DeFord Bailey's popularity led the enthusiastic Hay to choose him as one of the Opry acts to be recorded by Columbia Records during a session in Atlanta, early in 1927. Bad business practices made DeFord Bailey cancel his deal and sign with Vocalion. Vocalion, Brunswick's sister label, created a series. These series sessions would yield eight songs, including "Pan American Blues," the only recordings by a black performer among the series.
A year later, George D. Hay set up the first recording session to ever take place in Nashville, luring the Victor label to town to record his Opry Performers. DeFord. Bailey took part in this historic session, cutting eight new songs in four-and-a-half hours. Three of these cuts would later be released by Victor-- the last, "John Henry" in 1932. Reissues of the material were released as late as 1936.
Even though there is evidence that the labels made a lot of money, Bailey saw little remuneration from these recordings, and never really tried to record again after 1928.
DeFord Bailey toured constantly during the 1930's with several bands, playing tent shows, county fairs and theaters across the country, always returning to the Opry Stage for Saturday Night's Performance. In 1938 he agreed to help publicize Roy Acuff's Smoky Mountain Boys by touring with them over the next couple of years, directly lending a hand to Acuff's future stardom.
May of 1941, his sixteenth year with the Grand Ole Opry, DeFord Bailey the Grand Ole Opry's First Star was fired in a mystery often covered up or neglected by Country Music Historians. In his account of the Opry popular Radio Announcer George D. Hay wrote" "Like some members of his race, DeFord was lazy. He knew about a dozen numbers, which he put on the air and recorded for a major company, but he refused to learn any more."
"It's a terrible thing for the company to say terrible things like that about me," Bailey said in an interview. "I can read between the lines. They saw the day coming when they'd have to pay me right, and they used the excuse about me playing the same old tunes. I told them years, I got tired of blowing that same thing, but I had to go along with them, you know. They held me down-- I wasn't free."
Nashville Mayor Phil Bredesen declared December 14, DeFord Bailey Day, to honor the birthday of this musical legend, but at the Opry, he has been deleted from history.
Posted By:
Tuesday, March 1st 2011 at 10:56AM
You can also
click here to view all posts by this author...